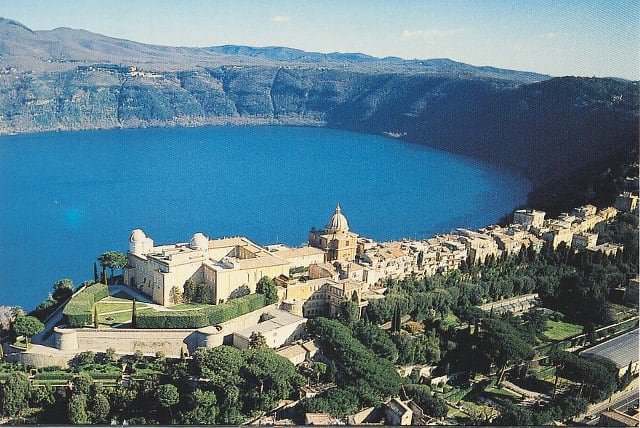 The populist Pope Francis opened the Papal Summer Residence Castel Gandolfo Papal Gardens to the public. For 26 euros tourists to Italy may travel 15 miles south of Rome to Castel Gandolfo (Castle Gandolfo) in the Alban Hills in the region of Lazio to tour the gardens.
Tickets for the Castel Gandolfo the Papal Garden tours may be purchased through the Vatican Museum. Tours of the gardens at Castel Gandolfo may be arranged from Monday through Saturday.
A stark contrast to the elitist Benedict, who was aloof and out of touch with his followers, Pope Francis is finding various ways to connect the ordinary people.  All people enjoy nature, gardens, lovely views, and cool summer breezes. A trip out to the Papal Gardens in Castel Gandolfo is a nice break from the hustle and bustle in Rome.
Like ordinary people Francis announced he will break with a 500 year old tradition and work during the summer months remaining in Rome, rather than take an extended vacation at the Castle, which lifestyle is more akin to ancient Roman Emperors and in the United States its Senators, Representatives and President.
The grounds of Castle Gandolfo include beautifully manicured gardens, terraces with views out to the Mediterranean Sea, the remains of the Emperor Domitain's Roman villa, and a working farm.  Products from the farm like honey, olive oil, and soaps are sold at the Vatican Museum shop in Rome.  Be sure to book your Papal Garden tour early when traveling to Rome during Spring and Fall when the garden's colors are at their peak.
While in the Castelli Romani area you may also want to try the local wines like Frascati and XXX and enjoy Veal Saltimbocca!