The Italy winter tours take you to Italy at magical time. Italy tour packages to Venice, Florence, and Rome are at the most affordable price during Winter. Plan your trip to Italy during December, January, February, and March for the best Italy vacation deals. The winter Italy tour itineraries are designed to be affordable so that families, friends, couples and honeymooners may all enjoy a tour of Italy's highlights together. Plan an Italy family vacation for winter vacation or early Spring break.The winter Italy vacation season begins on December 8 with the Feast of the Immaculate Conception.  The festive holiday season ends January 6 with the Feast of the Epiphany. During February Italy tours you'll find Carnival celebrated in different towns. During this time of winter you'll find traveling through Italy to be full of holiday cheer. Winter school vacations in February and March are popular times to plan a family tour of Italy at an affordable price. Book early to save. Don't wait, these winter 2020 Italy tours are on sale for a limited time.
The 8-day, 9-day, 10-day and 11-day winter 2020 Italy tours depart on Saturday and Tuesday. Submit form below with date you would like to travel.
Click here for 2019 Italy tours departing during the spring, summer, and fall.
To Book your Italy Tours Winter 2020 Vacation Package Submit Form or Call 800-227-1577
---
Italy Tours Winter 2020 4-Star Accommodations:
Italy Tours Winter 2020 Vacation Highlights:
Venice Walking Tour
Excursion to Murano
Excursion to Pisa
Wine tasting with local specialties at Tuscan countryside farm
Florence Walking Tour
Michelangelo's David, Florence
Basilica of St. Francis, Assisi
Vatican Museum & Sistine Chapel, Rome
Forum & Colosseum, Rome (9-,10-, & 11-day tours)
Visit to the excavations at Pompeii (10- & 11-day tours)
Whisper technology enhanced touring
The winter 2020 Italy tour package deposit is $200 per person. Final payment is due 60-days before departure.
* All Inclusive Italy tours winter 2020 prices include airfare, fuel surcharges, airport taxes, airport transfers, and fees. Italy Air & land tour package prices apply from New York City. Submit form for air itinerary and price from your city. Prices will vary from alternative gateway airports or cities and may be higher. The total price will be clearly displayed prior to any deposit being required. Additional baggage charges may apply.
Other Winter 2020 Italy tours that may be of interest:
For Venice, Florence, Rome, Amalfi Coast guided tours departing 2019 Spring, Summer, and Autumn click Italy tour packages 2019.
For all Italy tours available during Spring, Summer and Fall 2019 Italy tours click here.
---
Winter 2020 Italy Tour Packages Itinerary
The winter 2020 Italy tour packages are scheduled for departure on Tuesdays and Saturdays. The tour may be booked for 8-days, 9-days, 10-days, or 11-days. The daily sightseeing itinerary is below. For the price of the all-inclusive winter 2020 Italy tour with airfare from your city submit the form.
Vacation Day 1 – Depart the USA
Today fly overnight to Venice, Italy. Relax and sleep on the plane so you ready for your Venice arrival.
Vacation Day 2 – Arrive in Venice
If you book your all-inclusive winter Italy tour with airfare then the Venice arrival transfer to your hotel is included. After checking-in at your hotel you may have time to ride down the Grand Canal on the vaporetto, Venice's famous water bus. Stroll again and admire this romantic city. This evening meet your tour director for an authentic Venetian dinner with fellow travelers.
Overnight: Venice
Meals: Dinner
Vacation Day 3 – Venice City Tour
This morning begins with a boat ride to the Island of Murano. Murano is an island located in the Venice lagoon.  It is known for its glass blowing artists. There you will see the glass blowing artists practice their craft. Then you'll cross the Venice lagoon by boat to St. Mark's Square. St Mark's Square is the center of Venice. There you'll begin your guided walking tour of Venice. St Mark's Square is surrounded by architectural treasures.  St. Mark's Basilica and the Doge's Palace are testaments to Venice's wealth. The Bridge of Sigh's to its justice. Today romantic lovers visit Venice to have a kiss under the bridge in a gondola. Your tour guide will point out the important architectural features and share more of the history of the Doge and his buildings with you.  After the Venice walking tour you have the rest of the day to enjoy Venice sightseeing on your own. Or join us for an optional Gondola ride with music. While touring Venice note the atmosphere, which is especially dramatic in the winter light.
Optional Afternoon Tour: Gondola Ride with Music (PM)
Overnight: Venice
Meals: Breakfast
DAY 4, – Pisa Sightseeing En Route to Florence
Today you'll drive by luxury motor coach from Venice to Florence. This route travels through the Northern Italian regions Veneto and Emilia Romagna on the way to the famous Tuscany region.  In Tuscany, which is considered by many to be one of the most beautiful regions in Italy. You'll visit an authentic Tuscan agriturismo to taste some of the region's culinary specialties.  Enjoy the famous Tuscan olives, wines, cheeses, and meats., you'll visit Pisa. Here in the Piazza dei Miracoli, the Field of Miracles, the Romanesque and Gothic architecture impresses all visitors. The Leaning Tower, the Baptistery, the Duomo, and the Monumental Cemetery design and architectural styles set in the piazza are always popular with photographers.In the late afternoon you'll arrive in Florence, just in time for the time honored tradition of the evening passeggiata. This evening visit one of Florence's famous restaurants.  For some ideas click Florence restaurants.
Overnight: Florence
Meals: Breakfast
DAY 5, – Florence City Tour
This morning you'll wake up in the Renaissance city Florence. The morning walking tour begins at the Accademia. This Florence museum is where Michelangelo's David is housed.  Other sculptures by Michelangelo and paintings from the Renaissance are there too. After the Accademia tour you'll walk through Florence's center to the Duomo. You'll see Brunelleschi's Dome. Sitting atop the Florence Cathedral it is a testament to man's ingenuity during the Renaissance. Across from the Duomo is the Florence Baptistry. There you'll see the famous golden doors called "Gates of Paradise" by Ghiberti. Located next to the Duomo and Baptistry is the Campanile, the clock tower, designed by the great Giotto. After taking time here in this beautiful piazza the walking tour continues to explore the open air art museum that is Florence.  Signoria Square and the famous Ponte Vecchio, known as the "Old Bridge," are all included on today's walking tour of Florence. Enjoy the afternoon in Florence at leisure or join us for an optional tour of the Uffizi.  This evening join us for an authentic Tuscan dinner at a villa out side Florence. The classic meal includes 5-course dinner of appetizers, home-made pastas, the meats, and dessert. The famous Tuscan wine will be free-flowing while music plays in the background.
Optional: Dinner at a Tuscan Restaurant
Overnight: Florence
Meals: Breakfast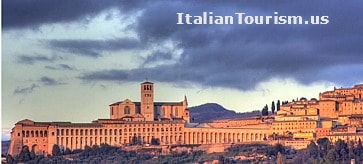 DAY 6, – Assisi City Tour, Transfer to Rome
Today you'll travel from Florence to Rome. This route will cover three central Italian regions: Tuscany, Umbria and Lazio.  Along the way you'll visit the Umbrian town of Assisi. This is a classic medieval town. It is an important site, renowned for its 13th century Basilica of St. Francis. Inside are the important frescoes by Giotto that depict the life of St Francis. After Assisi you'll continue on to Rome.
Optional: Dinner with Musical Entertainment & Illuminated Drive
Overnight: Rome
Meals: Breakfast
DAY 7, – Tour Vatican Museum
Today you'll discover Rome. It begins at the Vatican Museum. Here you'll tour one of the greatest collections of art in the world. The museum may be best known for the Sistine Chapel. The museum includes works and frescoes by art history's masters.  After the Vatican museum tour you'll visit St Peter's Basilica. Michelangelo's Pieta may be the most famous sculpture inside St Peter's Basilica. This marble sculpture depicts the body of Jesus in the arms of Mary after the Crucifixion. It is considered to be among the most compelling of all works of art in the Western world. Bernini is also a very important contributor to St Peter's Basilica. Outside in St Peter's square Bernini also designed the famous colonnade. This afternoon in Rome is free to be enjoyed on your own. Or you may choose to join an optional walk through Rome's historic center.
Optional: Piazzas of Rome (PM)
Overnight: Rome
Meals: Breakfast
Day 8 – The 8-Day tour ends with breakfast. Transfer to airport included with Italy packages with air.
DAY 8 – Tour Ancient Rome
This morning in Rome you will tour Ancient Rome. This is where the Roman Forum and Colosseum, among other famous monuments, are located. After the morning tour of Ancient Rome your afternoon is free to stroll around Rome.  You may also choose to join the optional tour of Rome's piazzas.  The Piazzas of Rome tour visits the Pantheon, Trevi Fountain, Spanish Steps, and Piazza Navona.
Overnight: Rome
Meals: Breakfast
Day 9  -The 9-Day tour ends with breakfast. Transfer to airport included with Italy packages with air.
DAY 9 – Pompeii Tour
Drive south, passing by the famous Monte Cassino Abbey, founded by St. Benedict of Norcia in 529. Destroyed on four separate occasions, it was last rebuilt after World War II. Along the way Mt. Vesuvius will be visible towering over the Bay of Naples as you drive to Pompeii.  There you will enjoy a tour this ancient Roman city. You'll visit the best preserved ruins included the Temples of Apollo and Jupiter, and the Forum. After the Pompeii tour the 10-Day Rome, Florence, Venice tour returns to Rome.  The 11-day Venice, Florence, Rome, Sorrento tour continues on to the Southern Italian resort town Sorrento.
Overnight: Sorrento
Meals: Breakfast
Day 10 – The 10-day Venice, Florence, Rome tour with Pompeii ends with breakfast.
DAY 10, – Full Day in Sorrento
Enjoy a full day at leisure in Sorrento. Strikingly beautiful and picturesque, even by Italian standards, Sorrento is set along the sea, with stunning escarpments plunging into the Gulf of Naples. Take a walk to see firsthand why this town has long been beloved by poets and artists
Optional: Full Day Amalfi Tour, Naples Archaeology Museum, Cooking Class
Overnight: Sorrento
Meals: Breakfast
DAY 11, – Depart for the USA
Transfer to the airport in Naples for your departure flight
Meals: Breakfast
You don't have to sacrifice luxury with these affordable luxury winter tours of Italy. Tour Italy at big discounts. Travel during December 2019, January 2020, February 2020, and March 2020. All Italy tour packages winter 2020 include 4 star accommodations in Rome, Florence, and Venice. Transportation from Venice to Florence with excursion to Pisa is included. Transportation from Florence to Rome with Assisi excursion is also included. And transportation from Rome to Sorrento with Pompeii is included with the 11 day tour package. The tour packages also include museum entrance fees and tour guides. Breakfast is included daily.
We guarantee that these Italy tour packages winter 2020 prices are the lowest for comprehensive Italy tours. Choose from land only prices or all inclusive prices with Italy round trip airfare and airport transfers included. Plan your winter 2020 Italy tour package with air during the winter holidays and late winter vacations for the best Italy tour with airfare prices. Share the trip with your family and friends. Plan your 2020 winter Italy vacation together. But don't delay, these winter Italy vacation packages will sell out quickly.
To Book your Italy Tours Winter 2020 Italy Vacation Package Submit Form or Call 800-227-1577