This leisurely southern Italy tour includes both the resort town of Sorrento and the jet setters island of Capri with Rome. The Rome, Capri, Sorrento escorted tour includes overnights in all three classic Italy vacation destinations. The trip begins with three nights in Rome.  Then travel from Rome to the southern Italian region of
Campania
. There you will have a total four nights around the Amalfi Coast area.  First enjoy two nights on the island of Capri. Then spend two nights in Sorrento.  This escorted tour of Rome and southern Italy includes tours of the sightseeing highlights combined with plenty of free time for you to explore on your own.  This Rome, Capri, Sorrento vacation brings you to the best southern Italy destinations. Enjoy the natural beauty, organic tastes, and timeless culture that makes touring southern Italy and the Campania region truly unique. For the price of the Rome, Capri, Sorrento tour with airfare from your city submit the form.
Highlights
10-Day Rome, Capri, Sorrento Southern Italy Tour Map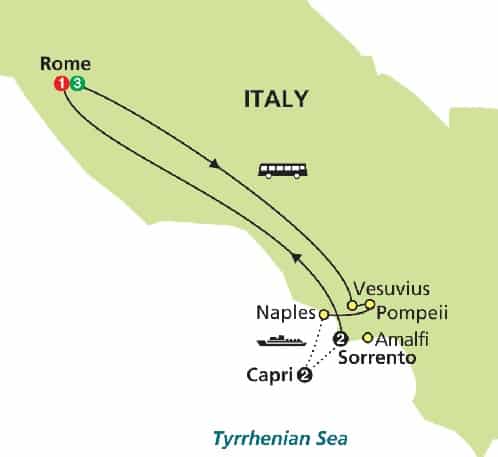 Rome, Capri, Sorrento Tour Highlights:
Breakfast Daily
Three authentic Neapolitan dinners in Capri and Sorrento
Pompeii Tour
Roman Forum Tour
Rome Colosseum Tour
Mt Vesuvius Tour
For the day-by-day Rome, Southern Italy and Sicily tour itinerary click here.

Accommodations
Rome, Capri, Sorrento Tour Accommodations:
8-nights at 4-star accommodations
3 Nights Rome – NH Villa Carpegna
2 Nights Anacapri – San Michele
2 Nights Massalubrense-Na – Central Park
1 Night Rome – Holiday Inn Eur Parco Dei Medici
For the daily Rome, Capri, Sorrento tour itinerary click here.
Optional Tours
The following optional tours scheduled during what is otherwise free time may be offered during your trip to Italy. They are available at an extra cost. Please submit form for more Rome, Capri, Sorrento tour details.
CAPRI
TOUR OF THE ISLAND
This romantic island, one of the jewels of the Mediterranean, has always inspired artists and poets.Take a chair lift to Monte Solaro for a breathtaking view of the entire Bay of Naples and have a fabulous view over the other Faraglioni rocks from the Augustus gardens.
ROME
THE CATACOMBS
The early Christians created the Catacombs, a network of underground corridors. We will show you the best of them!
TIVOLI WITH DINNER
Tivoli is infinitely rich from all points of view, and its enchanting Villa d'Este gardens are one of the masterpieces of the Italian water gardens .
FAREWELL DINNER
Soak up "la dolce vita" of this romantic but pulsing capital to the sound of clinking glasses as you "saluti" your way through the evening enjoying dinner in a typical restaurant. A tour of the city's fountains and majestic squares is included.
TREASURES OF ROME BY NIGHT AND DINNER
An evening tour including some of the city's fountains and majestic squares and a meal in a typical Roman restaurant.
VATICAN MUSEUM AND SISTINE CHAPEL
A tour around the Vatican museums to admire the beautiful tapestry gallery and the Sistine Chapel with masterpieces by Botticelli and Signorelli. See the "Genesis" and Michelangelo's "Last Judgement".
SORRENTO
NEAPOLITAN EXPERIENCE
Enjoy a delicious dinner on the picturesque Bay of Naples.

Rome, Capri, Sorrento Tour Daily Itinerary
This Rome, Capri, Sorrento vacation package includes guided tours of southern Italy's sightseeing highlights. Walk to the top of Mt Vesuvius' crater. Step back into ancient Roman civilization in Pompeii. Admire Capri's unique natural light while sipping authentic limoncello made from the local Capri lemons or swimming in its Blue Grotto. Hold your breath as you drive down the Amalfi Coast. You'll have time to shop the best Made in Italy products while visiting the local artisans who are Italy' best product. This tour focuses on local authentic southern Italian experiences. To book the tour and for airfare from your city submit the form or call us today 800-227-1577.
Day 1 – Depart the United States
Typically flights depart the United States for Italy in the evening. You'll sleep on the plane arriving in Rome tomorrow.
Day 2 Arrive in Rome, Italy
From Rome Fiumicino airport transfer to your Rome hotel. The rest of the day is free for you to enjoy the "Eternal City".  Strolling around Rome without a destination, falling upon little treasures, is always a favorite activity.
Day 3 – Rome
This morning you'll begin your day in Rome with a tour of St. Peter's Square.  After you will visit the ancient Roman Forum.  The guided tour includes visiting the Rome's iconic structure, the Colosseum.  This late afternoon and evening are free to enjoy Rome independently.
Day 4 – Rome
With two full days in Rome you may want to arrange additional guided tours of Rome.  Among the most popular is the tour of the Borghese Gallery, The Vatican Museum, visiting Ville d'Este in Tivoli, and going under Rome to tour the catacombs. All optional Rome tours may be arranged with skip the line tickets.
Day 5 – Rome to Southern Italy visit Pompeii. Arrive in Capri
Today you'll travel from Rome and the region of Lazio to southern Italy's Campania region. Along the way you'll visit Monte Cassino. This Benedictine Monastery at the top of a table-top mountain was the sight of fierce fighting in World War II.  Then you'll pass  Mt Vesuvius, which eruptions provide fertile soil and buried layers of history. You'll view history stopped in time with a tour of Pompeii. Mt Vesuvius covered this ancient Roman urban center in 79 AD. While walking among the remains of Roman villas, temples, theaters, and the forum your guide will take you back into time to experience first-hand the ancient Roman lifestyle. After the tour you'll enjoy an afternoon short ferry crossing the Bay of Naples from Sorrento to the breathtaking island of Capri. This evening you'll will enjoy an included authentic Neapolitan dinner.
Day 6 – Capri
Today you have a free day of leisure on Capri.  Walk around the charming streets. Maybe enjoy a lunch at picturesque Da Luigi. Be sure to spend some time enjoying a gelato and maybe even an authentic Pizza Margherita in the town's main Piazza. This evening you're invited to an included dinner among locals. Make time or take an optional tour to visit the highest point on Capri Monte Solaro. You may also want to visit the Gardens of Augustus.  From the Roman emperor's gardens enjoy views across Capri's roofs and bell tower of the St. James' Charterhouse, to the Faraglioni rocks,and the harbour of Marina Piccola.
Day 7 – Capri–Sorrento. Excursion to Amalfitan Coast
After two nights in Capri this morning you will embark Capri for he short ferry to Sorrento.  Enjoy the wonderful views of Mt Vesuvius and the cliffs of the Amalfi Coast. Upon arrival in Sorrento you'll have time to stroll around this southern Italian resort town. Overlooking the Bay of Naples and Mt Vesuvius, Sorrento's local artisans and natural beauty give it its special charm adored by all who visit.  This afternoon you'll tour the Amalfi Coast where Positano and Amalfi are located. And this evening you'll enjoy an included Neapolitan dinner.
Day 8 – Sorrento
Today you have a day at leisure to enjoy Sorrento.  There is plenty of local shopping boutiques and local inlaid wood artisans to visit.  We can also arrange a tour of Naples for you.  The world-famous Archaeology Museum includes artifacts from the ancient Egypt, the Greek Magna Grecia, through ancient Rome. Discover the regions rich history, art, and authentic traditions. A walking tour may include the cities highlights including the Duomo of San Gennaro, Via San Biagio dei Librai, Piazza San Domenico Maggiore, Piazza del Gesu and ending in Via Diaz. You'll also visit Castel dell'Ovo, named after a legend about the Roman poet Virgil. Then spend some free time strolling around Naples historic center including the Galleria and Royal Palace.
Day 9 – Sorrento–Rome
Today you'll depart southern Italy to make the trip back to Rome.  You'll arrive in Rome to re-visit your favorite spot or to discover something new. This evening enjoy dinner on your own at a local Roman trattoria or osteria.
Day 10 – Rome
This morning the Rome and Southern Italy tour ends.  With plenty of fond memories of Southern Italy's Rome, Capri, and Sorrento transfer to the airport after breakfast or continue your Italy vacation.
To browse more southern Italy vacations that include Rome, Capri, Sorrento, and the Amalfi Coast click here.