Many travelers interested in Italy cruises call ItalianTourism.us and ask, "can you beat the price on my Italian cruise?"  The answer is "Most Likely… Yes." Shop around for the best Italy cruise price and then bring the lowest price you can find to ItalianTourism.us. Certainly ItalianTourism.us can match the price of any Italy cruise. But our value is much more than just offering the best price on Italy cruises.
ItalianTourism.us saves you money in several other ways: trip insurance, shore excursions and sightseeing tips on how to avoid taking costly excursions, monitoring your Italy cruise booking for new sales and discounts that may be applied, guiding you to free berths and better deals in the market…. none of which a cruise line agent will tell you about.
Plus, ItalianTourism.us provides Italy cruise port transfers, which are significantly less expensive than booking through the cruise line.
Beyond saving you money and providing the best Italy cruise deal, guaranteed, our expertise is priceless. You'll know what to do in each great Italian city. We have the best drivers and tour guides in every Italy port and around the Mediterranean. Working with an Italy cruise expert like ItalianTourism.us enhances the overall Italy cruise vacation experience. For many travelers this is priceless.
Sail to Italy's great cities' ports on an all-inclusive Italian cruise vacation. Explore the magnificent scenery and glorious history along Italy's Mediterranean ports including Florence, Genoa, Naples, Sorrento, Rome. Cruise to Italy's Adriatic ports including Venice, Bari, Ancona, Ravenna. Journey through Italian culture, life, and history while exploring the Amalfi Coast, the Italian Rivieria, the Dalmatian Coast, Bari, Capri, Cinque Terre, Florence, Genoa, Naples, Portofino, Ravenna, Rimini, Rome, Sicily, Sorrento, and Venice on board the best cruises to Italian ports. Do it all stress- and worry-free with ItalianTourism.us.

Book your Italian cruise vacation package with confidence. ItalianTourism.us guarantees the lowest price on all cruises around Italy. Our expertise comes for free. Browse our hand-selected Italy cruise itineraries that focus on visiting primarily the Italian ports. Each Italian cruise may be packaged with airfare and hotel accommodations. Plus every Italy cruise vacation package includes exclusive free amenities. Our Italy cruise deals beat booking directly through the cruise line every time. Combine the best value with these unforgettable Italy cruise itineraries for a memorable all-inclusive around Italy cruise vacation.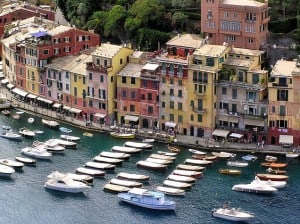 These all-inclusive vacation packages combine the best Italy land tours with a cruise around Italy. Sail from Rome or Venice before or after your land tour. The packages with airfare are priced from New York City. Browse our all-inclusive Italy tours with Mediterranean cruise vacation packages.
Cruise from Rome to the Western Mediterranean hot spots. The Rome cruise all-inclusive vacation packages visit Naples, Barcelona, Florence, the Italian Riviera, the French Riviera, and Sicily. Or sail around Italy from Rome to the Greek Isles, Turkey, the Dalmatian Coast, and Venice. Click to find the best cruises from Rome.
Cruise from Venice down the Adriatic sea to the Dalmatian Coast. Sail the Eastern Mediterranean cruise itineraries to the Greek Isles. Visit the archaeology sites in Greece and Turkey. Cruise around Italy from Venice to the Western Mediterranean Sea ports Rome and Barcelona. These Venice cruise all-inclusive vacation packages are the best value in Venice cruises. Click to find the best cruises from Venice.
Adriatic and Dalmatian Coast
A very popular Italy cruise itinerary is to embark Venice to sail to the Dalmatian Coast.  Cruising around Italy from Venice to Rome and Barcelona is also a popular itinerary. Browse our hand picked Dalmatian Coast cruises.
The vacation highlights of the western Mediterranean cruise is the Amalfi Coast and Sicily. Cruises to southern Italy include ports of call in Amalfi, Capri, Malta, Naples, and Sorrento. In Sicily you'll enjoy Taormina, Palermo, and Messina, which are Sicily's primary ports of call. Here you'll find Med cruise itineraries that focus on visiting the Italian ports only.
Italy's Po River is the only river cruise offered through Italy.  The Po river separates northern Italy from central Italy.  It runs through the region of Emilia Romagna to Venice. Along the way the rich Italian culture, history and art are your Italy river cruise ports of call.
Remember, not only will we get you the best deal on new Italy cruise bookings, but we can get you extras when you transfer your existing Italy cruise booking to us as well. Complimentary insurance, free shore excursions, discounts, free on board cash, and more could be yours just for letting us handle your existing booking! Give us a call or send us an email…we'll be glad to help you get the most value for your Italian cruise.
ItalianTourism.us Italy cruise tour vacation packages are the best value, guaranteed. We offer the widest selection of all inclusive Italy cruise packages with airfare and port transfers at the lowest price.

Our direct relationships on the ground with drivers, guides, and tour operators in all the Italian ports of call guarantee our travelers save hundreds of dollars on transfers and shore excursions alone.
All-inclusive cruise vacation packages include:
Round trip Italy airfare
Italy port transfers
Exclusive complimentary shore excursions
Private ship board cocktail parties
On board concierge services
Free on board spending cash
These exclusive free amenities and savings from ItalianTourism.us are available to guests on select Italian cruises that embark Rome, Venice, Barcelona and other Mediterranean ports.
Review the Italy cruises from all the cruise lines that sail around the Mediterranean.  Browse, compare, and review popular Italy cruises operated by:
Why are ItalianTourism.us's prices the lowest and its free amenities more generous than offered by the cruise lines and other travel agencies?
There is no other certified Italy travel agency with more Mediterranean cruise guests than ItalianTourism.us. Our enormous size gives us tremendous pricing leverage on Italian cruises. Our long-standing relationships translates to lower prices, more free amenities and upgrades, airfare credits, exclusive Mediterranean cruise with airfare packages, and better on board customer service for our Italian cruise travelers.
Our top producer status with all of the cruise lines that operate in Italy allows us to offer you the lowest price. Plus, we are Italy travel experts.  Therefore, when we package transfers and hotels our Italy cruise tour vacation package prices are unbeatable. All of our guests including families, couples with new born baby, honeymooners, anniversaries, graduations, family reunions, and groups receive the best price Italy cruise tour vacation package guaranteed.
And our certified Italy cruise travel agents can take care of anything else you may desire along your Italy cruise vacation.
In short, we offer top notch all inclusive Italy cruise vacation packages at the lowest price.
For the best deal on your Mediterranean cruise around Italy call 800-227-1577 or click the links.
Add a few nights in Rome or Venice before or after your cruise. Check out our pre-cruise Italy vacation packages and post-cruise Italy vacation packages.
Our all inclusive Italy cruise vacation packages with airfare include:
Centrally located hotels,
Transfers between airport, cruise port, and hotel
Day tours such as the Vatican Museum, Ancient Roman Forum, Venice Tours
---
---
Italy's great "cities of art," Venice, Rome and Florence, have attracted visitors for centuries, but Italy has much more for the art lover to discover. Every region of Italy and just about every town offers a rich cultural tradition and history to explore and enjoy. And what better way to travel through Italy stress free than on a cruise around Italy. Explore the mosaics of Ravenna, the hidden gems of Palermo, the history of Cagliari, the Etruscan tombs of Tarquinia, and much more.
Italy is a peninsula surrounded by the Mediterranean Sea and the Adriatic Sea. There are various gulfs and islands to visit. Between Venice and Rome travel through Italy visiting the many other cruise ports of call along the Italic peninsula. Depending on which cruise line and itinerary you choose for your Mediterranean Italian cruise you'll visit between three and eight or even nine Italian ports. You may also sail from Italy to the Greek Isles, French Rivera, The Holy Lands, and the Dalmatian Coast.
To help make your Mediterranean cruise affordable the cruise lines are offering air credits and discounted air inclusive cruise fares. Take advantage of our all inclusive affordable cruises around Italy today.
And with your cruise ItalianTourism.us will include FREE ON BOARD CASH + FREE AMENITIES
These FREE amenities are in addition to the guaranteed lowest priced Italy cruises.
Shop around, then call us 800-227-1577.
We'll beat the cruise lines and any other Mediterranean cruise deal you find – We guarantee the best service and lowest price on all Italy cruises.