Below are our hand-picked recommended Rome hotels. Our Rome hotel deals with Booking.com will typically beat any other website offering the best deals for booking hotels in Rome, including Apple Vacations, Expedia, Orbitz, Hotels.com, Travelocity, and others. Take a look at the centrally located Rome hotels.
When planning a trip to Rome we recommend a centrally located Rome hotel located close to Rome's historic center. The primary neighborhoods in Rome's center are:
Via Veneto – Via Veneto, made famous in La Dolce Vita, here you'll find plenty of Made in Italy shopping boutiques and authentic Roman restaurants.
Across the Tiber River is the popular neighborhoods Trastevere and around the Vatican.
Hotels near Rome's Termini train station, and on the Via Veneto. are little further from the historic center.
Check out our Rome sightseeing page for more about Rome's neighborhoods.
During the day you will want to walk around and tour Rome's center. At night you'll want to enjoy the various neighborhood authentic Roman restaurants. In our opinion, the hotels listed below are the best centrally located hotels in Rome's center. These hotels are perfectly located for both daytime sightseeing and nighttime dinner and strolling. Click the links below for more Rome hotel information and feel confident booking with booking.com lowest price guarantee and even price match.
Recommended 5-Star Rome Hotels
Via Sistina 69, Spagna, 00187 Rome, Italy
Rome hotel located just above the Spanish Steps in an 18th-century palazzo transformed into an elegant hideaway with sky-high views over Rome's rooftops. Amenities include three restaurants, spa, and elegant and spacious 17th-century style rooms.
---
Spanish Steps: Via Ludovisi 49, 00187 Rome
Located around Spanish Steps known for its first-class service, great location and views from its roof-top restaurant over Rome.
---
Spanish Steps: Via Di Porta Pinciana 14, Rome, 00187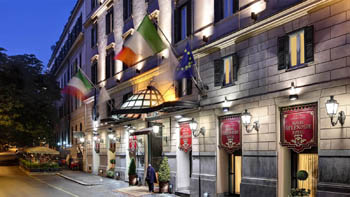 Lovely Rome hotel located above the Spanish steps. Close the Borghese Gardens, you'll enjoy its park feeling among Rome's chaotic scene.
---
Spanish Steps: Piazza Trinita dei Monti 6, 00187 Rome
One of Rome's most popular luxury hotels. Featured in many movies it is where the stars stay when in Rome. Its location at the top of the Spanish Steps makes it a fun location in Rome's center.
---
Spanish steps: Via Lombardia, 47, 00187 Roma
This swanky hotel is located at the top the Spanish Steps. The rooftop bar and restaurant is a favorite spot for bell tower views of Rome. The rooms are 5-star comfort.
---
Piazza Navona: Largo Febo, 2, 00186 Roma, Italy
Central location off Piazza Navona is perfect. Prosecco at sunset on its rooftop divine. The hotel is full of fine art. Via Governo Vecchio, Via del Orso, Campo de Fiori, and the Pantheon within minutes.
---
Spanish Steps – Via Vittorio Veneto, 72, 00187 Roma
Via Veneto location and great service make Hotel Baglioni one of the most popular Rome luxury hotels.
---
Spanish Steps: Via del Vantaggio, 14, 00186 Roma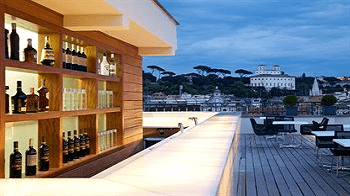 Centrally located steps from Piazza del Popolo and the Spanish Steps. Tourists, families, honeymooners and anniversary celebrations at The First Luxury Art Hotel Roma exceeds all expectations.
---
Pantheon: Piazza della Minerva, 69, 00186 Roma
Located in the center of Rome's historic center across from Pantheon in Piazza della Minerva, steps from Bernini designed Elephant. Step out for morning espresso at Sant'Eustachio or Tazza d'Oro. Piazza Navona and Campo de Fiori few minute walk.
---
Vatican: Via del Gianicolo, 3 Rome, Italy
The Gran Melia Rome is located across the Tiber on the south side of the Vatican wall. It exudes luxury. State-of-the-art spa, outdoor pool, and world=class restaurant are all for you to enjoy.
---
Via Veneto: Via Vittorio Veneto, 155, 00187
Located in the heart of historic Rome on the exclusive Via Veneto, Grand Hotel Via Veneto is housed in two renovated and restored 19th century villas.
---
Colosseum: Via Labicana 125, Rione Monti, 00184 Roma
Steps from Colosseum, Roman Forum, minutes from Basilica di San Clemente and Santi Quattro Coronati. Boutique hotel with roof top bar and restaurant with Colosseum views captures the heart of all who visit.
---
Spanish Steps: Via Vittorio Veneto 125, Area Via Veneto, 00187 Roma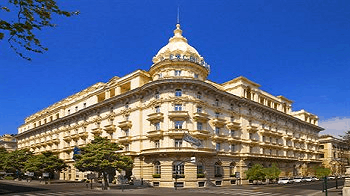 With its indoor pool and prime local on the Via Veneto, the Excelsior in Rome is a favorite for couple, honeymooners and families visiting Rome.
---
Teatro dell'Opera: Via Vittorio Emanuele Orlando 3, Estación de Termini, 00185 Roma
The Central location makes the St Regis a good call for a hotel base in Rome. Its 5-star service makes it popular Rome hotel for a special honeymoon or anniversary. The courteous staff and historic building add authentic hospitality to any Roman holiday.
---
Via Del Babuino 9, 00187 Rome, Italy (Campo Marzio)
Everyone loves the location. The spacious hotel rooms and 5-star hotel serve make staying at the Hotel de Russie a pleasure. After walking Rome's cobble stoned streets enjoy the hotel's lovely spa. The terrace and gardens will have you feeling like a Roman emperor.
---
Rome Observatory Hill: Via Alberto Cadlolo 101, 00136 Rome
Surrounded by its large Mediterranean gardens, Rome Cavalieri, A Waldorf Astoria Hotel offers views of Rome and the Vatican from its hilltop position in Montemario.
---
Recommended 4-Star Rome Hotels
Vatican: Via Virgilio, 1 E/ F/ G, 00193 Rome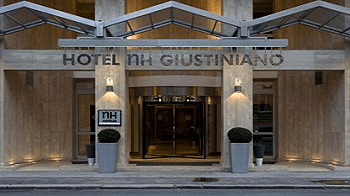 The NH Giustiniano is well located across the Tiber from Rome's center en route to the Vatican. Perfect location to visit all of Rome's sites. The hotel offers first-class service, comfortable rooms, and central location. You'll find everything you want at this hotel in Rome.
---
Campo de Fiori: Via dei Pettinari 64, 00186 Rome
The area around Campo de Fiori and Piazza Farnese is hard to beat. Full of life, locals, and fun restaurants, it is the perfect Rome hotel location. Named after the bridge that crosses the Tiber the neighborhood is perfect for exploring Campo de Fiori, Piazza Navona, Via Giulia, Campo Marzo, Pantheon, Via del Governo Vecchio, and Trastevere.
---
Termini: Via Giovanni Amendola 7, 00185 Rome
If you are looking for a hotel near Rome's Termini train station then the Welcome Piram Hotel is a good option. Excellent service, friendly staff, and spacious rooms all make this Rome hotel a comfortable stay.
---
Corso Vittorio Emanuele II 102, Pantheon, 00186 Rome, Italy
Always a good hotel stay located right in Rome's center. This hotel is within walking distance of all Rome's sightseeing highlights. Walk around the corner to the Pantheon, Campo dei Fiori, the Colosseum and Piazza Navona. Breakfast is typically not included with the room reservation.
---
Via Emilia 22-24, 00187 Rome
Located in nice quiet Roman neighborhood above the Spanish steps and close to Borghese Gardens and museum. Rooms are good size and clean. An affordable Rome hotel perfect for families for visiting Rome.
---
Trastevere: Via Dell'Arco Di San Calisto 19 / 20, 00153 Rome
Great hotel for an authentic stay in Rome's fun Trastevere neighborhood. Escape chaotic Rome for a nice stay located very close to Piazza Santa Maria in the heart of Trastevere. The large rooms are clean, well appointed and comfortable. The friendly staff is always helpful. Breakfast always excellent.
---
Colosseum: Via Cavour 213-M, 00184 Rome
Located less than a 5 minute walk from the Colosseum on Rome's main street Via Cavour. Great located and comfortable rooms make this hotel perfect for a weekend holiday in Rome.
---
Termini; Via Cavour 18, 00184 Rome
Located close to the Rome Termini train station makes it an easy hotel for those traveling to Rome by train. The 4-star hotel has full restaurant and roof top dining. Rooms are clean and spacious.
---
Termini; Via Cavour 15, 00184 Rome
Comfortable hotel near Rome's termini train station. This 4-star hotel is very convenient for getting in and out of chaotic Rome.
---
Albergo del Sole al Biscione Rome Hotel
Via Del Biscione 76, Navona, 00186 Rome, Italy
Located in Rome's center, Hotel Sole Roma features furnished terrace offering views of the city's rooftops. The surrounding area is lively and full of shops, restaurants and pubs. At the Sole Roma Hotel you can sit and unwind on the rooftop terrace, boasting panoramic views over the city, including Rome's domes. Both Piazza Navona and Campo de' Fiori squares can be reached in minutes on foot.
---
Hotel Sole Al Pantheon
Piazza della Rotonda, 63, 00186 Roma RM, Italy
Staying here you'll be right in the middle of all the action in Rome's historic center. Both Sant'Eustachio and Tazza d'Oro are around the corner for morning espresso. Piazza Navona and Campo de Fiori within few minute walk.
---
Hotel Azzurra
Via Del Boccaccio 25, Trevi, 00187 Rome, Italy
Hotel Azzurra is 1,300 feet from the Trevi Fountain. Barberini Metro Station and a 5-minute walk from Via Del Corso shopping street. Azzurra Hotel is 1,950 feet from the Spanish Steps. Termini Station is just 2 metro stops away.
---
Chapter Roma
Via Santa Maria Dè Calderari 47, Pantheon, 00186 Rome, Italy
---
Bollo Apartments
Vicolo Del Bollo 4, Navona, 00186 Rome, Italy
In a 17th-century building in Rome's historic center, Bollo Apartments is a 5 minute walk from Piazza Navona. Bollo Apartments is just a few feet from the well known Campo de' Fiori Square, with its popular bars and restaurants. The bustling district of Trastevere is just across the Tiber River.
---
Hotel Locanda Cairoli
Piazza Benedetto Cairoli 2, Navona, 00186 Rome, Italy
Hotel Locanda Cairoli is set in an 18th-century building. Each room is individually furnished with antiques, valuable paintings and sculptures. It is located just 1,150 feet from Campo de' Fiori. Piazza Navona and the Pantheon are both 1,950 feet away. The property is a 3-minute walk from the number 8 tram stop Argentina.
---
Hotel Teatro Pace
Via del Teatro Pace 33, Navona, 00186 Rome, Italy
The Hotel Teatro Pace is surrounded by the artisans' workshops and typical Roman trattorias found in the winding streets around Piazza Navona. The old theater, which gave the street and the hotel its name, is set right across from this characteristic property. Piazza Navona is a 2-minute walk away. Decorated in a late Baroque style, the Teatro Pace Hotel is delightful inside and out. Climb up the imposing old stairway, dating back to the 16th-century, to reach your comfortable, beautifully furnished room.
---
Boutique Hotel Campo de' Fiori
Via Del Biscione 6, Navona, 00186 Rome, Italy
Boutique Hotel Campo de' Fiori is located in a corner of one of the city's most popular squares, Campo de' Fiori. During the day the square features a traditional fruit and vegetable market, and it is buzzing with bars and restaurants at night. The hotel's terrace has a 360° view of Rome.
---
Hotel Navona
Via Dei Sediari 8, Pantheon, 00186 Rome, Italy
Hotel Navona is in a restored 15th-century building complete with frescos. The property is right behind the beautiful Church of Sant'Ivo alla Sapienza. Hotel Navona – Dimora Storica is in a limited-traffic area with great public transportation services. Step out into the characteristic narrow streets around the lively Piazza Navona and enjoy the unique atmosphere of Rome's historic center. A short walk takes you to the Trevi Fountain or the Pantheon. Metro stops are a 10-minute walk away.
---
Hotel Smeraldo
Via dei Chiavari 20, Pantheon, 00186 Rome, Italy
Hotel Smeraldo is in central Rome, just 650 feet from the popular square of Campo de' Fiori. It offers a roof terrace overlooking the historic center. The Smeraldo Hotel is 5 minutes' walk from the Pantheon and Piazza Navona. Campo de' Fiori nearby is home to a daily open-air market, while in the evening it is full of lively restaurants and bars.
---
Domus Real Cardello
Via Del Cardello 14 , Rione Monti, 00184 Rome, Italy
Domus Real Cardello is located 650 feet from the Collosseum and Colosseo Metro Station. Via del Corso, Rome's popular shopping street, is 1.2 mi from the property. Trevi Fountain is just 5 metro stops away. Rione Monti is a great choice for travelers interested in roman ruins, sightseeing and food.
---
Hotel Teatro Di Pompeo
Largo Del Pallaro 8, Navona, 00186 Rome, Italy
This small, charming, 3-star hotel in the historic center of Rome is set on the remains of the ancient Roman Theater of Pompey, near Piazza Navona and Campo de Fiori. Located in a quiet square, Hotel Teatro di Pompeo offers an intimate, historic setting. You can admire the original stone walls of the old theater in the hotel's reading and breakfast rooms. Major sites are all within walking distance from the hotel. You will be in Rome's most historic area where most attractions are within a half-mile radius of the hotel.
---
Hotel Raffaello
Via Urbana 3, Rione Monti, 00184 Rome, Italy
Hotel Raffaello is set in a quiet street in a pleasant area less than 10 minutes' walk from both Rome Termini Station and the Collosseum. Cavour Metro is 1,300 feet away. Rione Monti is a great choice for travelers interested in roman ruins, sightseeing and food.
---
Via Margutta, 61, 00100 Roma RM, Italy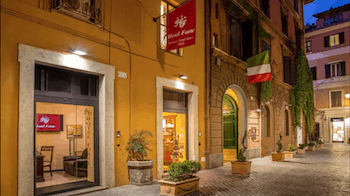 This small, charming, 3-star hotel located on the beautiful little street Via Margutta made famous in the movie Roman Holiday, minutes from the Spanish Steps and Piazza Puopolo. Fantastic hotel choice for hotel located in the center of Rome.
---
Remember, we guarantee the best deals on centrally located Rome hotels. We also offer Rome airport private luxury sedan transfers to your hotel for $70 USD.
To book your hotel in Rome's center submit the form or call us today 800-227-1577.