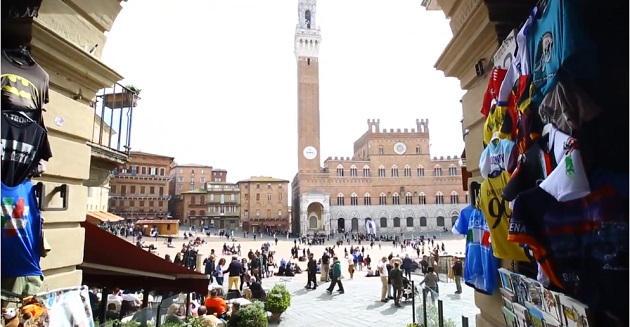 This escorted Italy tour travels from Venice to Sorrento. The tour itinerary includes two Tuscan destinations: 1 night in Florence and 1 night in Siena. In Rome the itinerary includes the Vatican Museum and St. Peter's Basilica. In southern Italy's resort town Sorrento it includes excursions to Pompeii and Capri. To book this tour and for more information submit the form below or call ItalianTourism.us 800-227-1577.
Highlights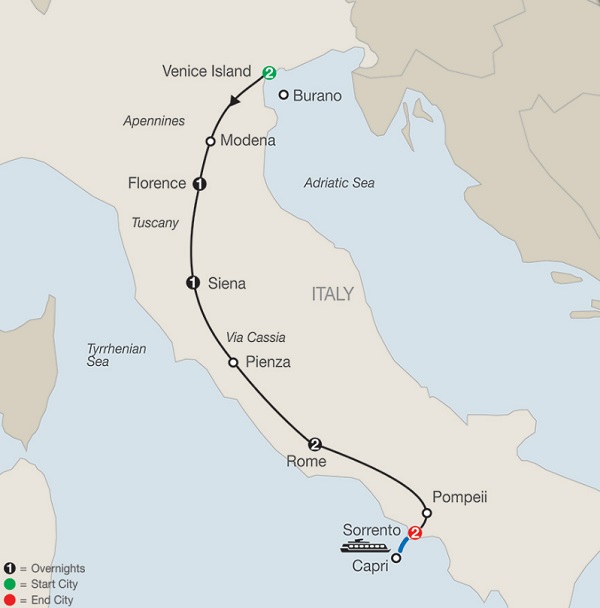 Escorted Italy Tour Highlights:
Venice – Welcome dinner at a local restaurant; private boat ride; guided walking tour, visit St. Mark's Square, Doges' Palace and the Bridge of Sighs; glassblower demonstration; gondola serenade
Modena – Leonardi Acetaia balsamic vinegar tasting
Florence – Guided walking tour, visit Michelangelo's David and Signoria Square
Siena – Guided walking tour, admire the Duomo and visit Piazza del Campo
Pienza – Visit this UNESCO World Heritage Site
Rome – Guided sightseeing, visit the Vatican Museums and Sistine Chapel, St. Peter's Square and Basilica
Pompeii – Guided walking tour of the excavations
Capri – Funicular ride; guided sightseeing
UNESCO included sites:

Archaeological Site of Pompeii
Historic Centre of Florence
Historic Centre of Siena
Historic Centre of the city of Pienza
Venice and its Lagoon
Historic Centre of Rome – various properties Vatican City
Italy Tour Includes
Meals: Breakfast Daily & 2 Dinners
An expert Travel Director and separate Driver
All hotel tips, charges and local taxes
Skip the line VIP entry to sightseeing highlights
Accommodations
Included Accommodations
Carlton Grand Canal, Venice
Grand Hotel Mediterraneo, Florence
NH Siena Piazza La Lizza, Siena
Della Conciliazione, Rome
TBD, Sorrento
Optional Tours
Optional tours are scheduled during what is otherwise free time. Submit the form for the price of each experience.
Optional Venice Tours
Lagoon Cruise and Meal in Burano
Experience the floating city from the water as you cruise along the lagoon to charming Burano Island for a delicious four-course meal and time to explore.
Optional Florence Tours
Florentine Dinner
Bask in the spirit of Tuscany at this incredible dinner featuring the region's most celebrated Italian dishes and tantalizing wines.
Optional Siena Tours
Excursion to Montereggioni and Tuscan Dinner
Visit Montereggioni, which is lovely medieval walled town. There you'll have time to stroll around followed by an authentic Tuscan dinner.
Optional Rome Tours
Piazzas and Fountains of Rome
Discover the most charming areas in the city with a Local Specialist. Wander through the labyrinth of narrow streets and beautiful squares of Rome's historic center, leading to highlights such as the Trevi Fountain and the Pantheon, as well as hidden corners of the Eternal City.
Roman Evening with Dinner
Spend a light-hearted evening with us in Rome. Relax and enjoy typical Italian cuisine with drinks and music. Afterwards, we'll enjoy a drive and provide a glimpse into how Romans enjoy their city.
Optional Sorrento Tours
Positano
Come with us for a drive along the famous Amalfi Coast. You'll have a chance to visit the exclusive artists' paradise of Positano, which is magnificently positioned on the Mediterranean coast.
Sorrento Dinner
Enjoy dinner at a local trattoria and indulge in an authentic southern Italian meal.
For a similar tour with less included tours thus less expensive check out the 14-day affordable tour to Northern Italy, Southern Italy, and Italy's cities.
Submit form or call us today 800-227-1577 to book your escorted Italy tour
Venice, Florence, Siena, Rome, Sorrento
---
Escorted Italy Tour Itinerary
Day 1 Depart USA
Overnight flight to Italy's Venice where the tour begins on Day 2.
Day 2 Arrive in Venice
Welcome to Venice! If your flight arrives early you will have time to stroll around and get your legs back. This evening at about 6PM you'll enjoy a welcome dinner at local Italian restaurant. There you'll meet your tour director and traveling companions.
Meals: Dinner
Day 3 Venice Tour
The day begins with a boat ride around Venice's canals. After you'll be escorted on a walking tour by a local expert Venice guide. The Venice walking tour includes visiting St Mark's Square. There you'll tour the Doge's Palace and see the Bridge of Sighs. Later you'll see a local Venetian artisan practice the glassblowing craft, for which Venice is famous. The afternoon is topped off with an included Gondola Ride.
Meals: Breakfast
Optional Tour: Burano
Day 4 Travel to Florence with Excursion to Modena Balsamic Factory
To day you travel from Venice in northern Italy'd Veneto region to Florence in Italy's famed Tuscany region. Along the way you pass through the fertile Emilia Romagna region, known for its fine culinary traditions. The traveling today includes an excursion to the Leonardi Acetaia to taste Balsamic Vinegar. After the tour continues to Florence. This evening you have time on your own to enjoy the beautiful city or you may join an option authentic Tuscan dinner.
Meals: Breakfast
Optional: Tuscan Dinner
Day 5 Travel from Florence to Siena
Today you'll wake up in Florence, the "cradle of the Renaissance." The day begins with a local Florence guide who will escort you to the Accademia Museum to see Michelangelo's David. After you'll stroll around Florence's historic center to see the Duomo and Brunelleschi's Dome, Giotto's Bell Tower, the Baptistry's heavy bronze "Gate of Paradise," and Signora Square.  After the tour departs Florence for the Tuscan countryside and the charming town, Siena. After arrival you have free time to relax.
Meals: Breakfast
Day 6 Siena to Rome with Excursion to Rome
Today you'll enjoy a walking tour medieval Siena. The tour includes the Duomo and the Piazza del Campo.  After Siena the tour continues to Pienza. This picturesque town has been listed as a UNESCO World Heritage Site, thanks to a member of the Piccolomini family who became Pope Pius II in the 15th century and redesigned the town in perfect renaissance style. After the tour continues to Rome. There you have free time to enjoy your evening. Or join an optional dinner with local specialties is available at one of Rome's famous restaurants.
Meals: Breakfast
Optional: Rome Dinner
Day 7 Rome
Today you wake up in Rome, the Eternal City. The guided sightseeing includes the Vatican Museum and Sistine Chapel with Michelangelo's The Last Judgment. The tour also includes St Peter's Square and St Peter's Basilica. After you'll leave Vatican City and cross the Tiber River to the Roman Forum and see the amazing Colosseum, where gladiators once fought. An optional walking tour with a Local Guide is available to further explore famous sites for those who wish to see it all.
Meals: Breakfast
Optional: Rome Walking Tour
Day 8 Rome to Sorrento with Pompeii Tour
Today the tour continues south from Rome to Sorrento. Along the way there is an excursion to Pompeii. In Pompeii you'll see the remains of an Ancient Roman city destroyed by the eruption of Mt Vesuvius in 79AD. You'll walk past patrician homes, public baths, and commercial districts that strikingly recall day-to-day life when Rome was at the apex of her power. Overnight in the charming, southern Italian resort town of Sorrento.
Meals: Breakfast
Optional: Sorrento Dinner
Day 9 Excursion to Capri
Today jet across the Bay of Naples to world-famous Isle of Capri. There you'll ride the funicular up the center of Capri. You'll have free time to browse the Made in Italy boutiques and enjoy an espresso or gelato in the charming piazzetta before returning to Sorrento. The remainder of the day is at leisure. This evening there is a farewell dinner and a taste of Limoncello at O' Parrucchiano restaurant.
Meals: Breakfast & Dinner
Day 10 Tour Ends in Sorrento
Your vacation ends with breakfast this morning (the nearest airport is Naples).
Meals: Breakfast
Submit form or call us today 800-227-1577 to book your escorted Italy tour