Combine the 9-Day Venice, Florence, Rome escorted tour of Italy's great cities with a 7-night Western Mediterranean cruise. The Italy tour with Western Mediterranean cruise is a relaxing laid-back way to see Western Europe in two weeks. The Italy tour begins in magical Venice. Then its on to Renaissance Florence and finally the Eternal City Rome. Then embark from Rome's cruise port Civitavecchia for a cruise around the Western Mediterranean. Ports of call include Cannes, France, Barcelona, Spain and Naples, Italy. Click here for the day-by-day Italy tour and cruise itinerary. All accommodations are 4-star and centrally located. Walk out and enjoy the splendors that these Italian cities have to offer. To book this 16-Day Venice, Florence, Rome escorted Italy tour with Western Mediterranean cruise submit the form below or call us today 800.227.1577
.
Highlights
Italy Tour with Western Med Cruise Itinerary Map
Italy Tour and Western Mediterranean Cruise Vacation highlights
Visit the pink marble Doge's Palace in Venice
Stop at a typical farm in the Tuscan countryside for wine tasting and local specialties
See Pisa's famous Leaning Tower
Visit the 13th-century Basilica di San Francesco in Assisi
Tour of the Vatican Museums and Michelangelo's incomparable Sistine Chapel
Historic tour of Ancient Rome including the Roman Forum and the Colosseum
Wine & mineral water with all dinners on motor coach tour
Norwegian Cruise Line® Complimentary & Specialty Restaurants
Italy Tour & Western Mediterranean Cruise Package Includes
Flights New York-Venice, Rome-New York. Submit form for airfare from your preferred departure airport.
Airline taxes & fuel surcharges
14 nights First Class accommodations

2 nights Murano Island, Venice
2 nights Florence
3 nights Rome
7 nights Norwegian Epic, Norwegian Cruise Line®

Italian city hotel taxes
Hotel & cruise porterage
All transfers included when air is booked with Italy cruise tour
31 meals: 14 breakfasts, 6 lunches, 11 dinners
Sightseeing per itinerary in modern air-conditioned motor coach
Services of English-speaking tour manager (Days 2 – 8)
Services of local guides in all major cities (Days 2 – 8)
Entrance fees per itinerary (Days 2 – 8)
Comfortable wireless earphones for enhanced touring on motor coach tour
Click here for accommodations
Itinerary
Day by Day Italy Cruise Tour Itinerary
DAY 1 – Depart the USA
Today you will fly across the Atlantic from the United States to Italy. Flights that depart from the United States arrive in Italy to meet the tour the following day. If you are flying to Italy from the west coast cities like Portland, Seattle, Los Angeles, Las Vegas, Phoenix, San Francisco, San Diego then you may depart early to arrive in Italy the following morning.
DAY 2 – Arrive in Venice
The all inclusive Italy tour with airfare includes transfers from Venice Marco Polo airport to your accommodations. If you prefer to arrange your own air itinerary to Italy please let us know if you would like us to help you with transfers. Today is your first day in Italy. There are no escorted tours scheduled. If you arrive early then you have a free day in Venice. This evening you will meet your Italy tour director and other travelers at an orientation and welcome to Italy dinner.
Overnight: Venice
Meals: Dinner
DAY 3 – Venice City Tour
This morning begins with a boat ride to the Island of Murano. Murano is an island located in the Venice lagoon. It is known for its glass blowing artists. There you will see the glass blowing artists practice their craft. Then you'll cross the Venice lagoon by boat to St. Mark's Square. St Mark's Square is the center of Venice. There you'll begin your guided walking tour of Venice. St Mark's Square is surrounded by architectural treasures. St. Mark's Basilica and the Doge's Palace are testaments to Venice's wealth. The Bridge of Sigh's to its justice. Today romantic lovers visit Venice to have a kiss under the bridge in a gondola. Your tour guide will point out the important architectural features and share more of the history of the Doge and his buildings with you. After the Venice walking tour you have the rest of the day to enjoy Venice sightseeing on your own.
Optional: Gondola Ride with Music (PM)
Overnight: Venice
Meals: Breakfast
DAY 4 – Pisa Sightseeing and Tuscany Agriturismo Visit En Route to Florence
Today you will leave Venice to drive across the Italian peninsula to Florence. Along the way you'll travel across two
unique Northern Italian regions, Veneto and Emilia Romagna, to the central Italian region Tuscany. In Tuscany, which is considered by many to be one of the most beautiful regions in Italy, you'll visit Pisa. Here in the Piazza dei Miracoli, the Field of Miracles, the Romanesque and Gothic architecture impresses all visitors. The Leaning Tower, the Baptistery, the Duomo, and the Monumental Cemetery design and architectural styles set in the piazza are always popular with photographers. After touring Pisa the travel day continues to a farm in the Tuscan countryside. Known as an agriturismo, your vacation includes an authentic culinary tasting. Enjoy the famous Tuscan olives, wines, cheeses, and meats. In the late afternoon you'll arrive in Florence, just in time for the time honored tradition of the evening passeggiata. This evening visit one of Florence's famous restaurants. For some ideas click Florence restaurants.
Overnight: Florence
Meals: Breakfast
DAY 5 – Florence City Tour
This morning you'll wake up in the Renaissance city Florence. The morning walking tour begins in Florence's center at the Duomo. You'll see Brunelleschi's Dome. Sitting atop the Florence Cathedral it is a testament to man's ingenuity during the Renaissance. Across from the Duomo is the Florence Baptistry. There you'll see the famous golden doors called "Gates of Paradise" by Ghiberti. Located next to the Duomo and Baptistry is the Campanile, the clock tower, designed by the great Giotto. After taking time here in this beautiful piazza the walking tour continues to explore the open air art museum that is Florence. Signoria Square and the famous Ponte Vecchio, known as the "Old Bridge," are all included on today's walking tour of Florence. Enjoy the afternoon in Florence at leisure or join us for an optional tour of the Uffizi. This evening you'll visit an agriturismo outside of Florence in the Tuscan countryside. Here your dinner and entertainment is included in what is a very special and authentic evening in Tuscany.
Optional: Uffizi Gallery Tour
Overnight: Florence
Meals: Breakfast, Dinner
DAY 6 – Sun Route Via Assisi to Rome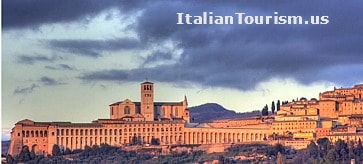 Today you'll travel from Florence to Rome. This route will cover three central Italian regions: Tuscany, Umbria and Lazio. Along the way you'll visit the Umbrian town of Assisi. This is a classic medieval town. It is an important site, renowned for its 13th century Basilica of St. Francis. Inside are the important frescoes by Giotto that depict the life of St Francis. After Assisi you'll continue on to Rome. This evening dinner is included.
Overnight: Rome
Meals: Breakfast, Dinner
DAY 7 – Vatican Museum & Sistine Chapel or Ancient Rome Forum and Colosseum
Today you'll discover Rome. It begins at the Vatican Museum. Here you'll tour one of the greatest collections of art in the world. The museum may be best known for the Sistine Chapel. The museum includes works and frescoes by art history's masters. After the Vatican museum tour you'll visit St Peter's Basilica. Michelangelo's Pieta may be the most famous sculpture inside St Peter's Basilica. This marble sculpture depicts the body of Jesus in the arms of Mary after the Crucifixion. It is considered to be among the most compelling of all works of art in the Western world. Bernini is also a very important contributor to St Peter's Basilica. Outside in St Peter's square Bernini also designed the famous colonnade. This afternoon in Rome is free to be enjoyed on your own. Or you may choose to join an optional walk through Rome's historic center.
Optional: Piazzas of Rome
Overnight: Rome
Meals: Breakfast
Day 8 – Tour Ancient Rome
This morning in Rome you will tour Ancient Rome. This is where the Roman Forum and Colosseum, among other famous monuments, are located. After the morning tour of Ancient Rome your afternoon is free to stroll around Rome. You may also choose to join the optional tour of Rome's piazzas. The Piazzas of Rome tour visits the Pantheon, Trevi Fountain, Spanish Steps, and Piazza Navona. This evening dinner is included at a local Roman trattoria. You will enjoy an authentic Roman evening including culinary specialties, wine and music included. After dinner you'll enjoy an illuminated tour of the Rome's monuments.
Overnight: Rome
Meals: Breakfast, Dinner
DAY 9 – Embark Western Mediterranean Cruise
Enjoy the morning at leisure in Rome before saying good bye to your Tour Manager and transferring to the port in Civitavecchia. The ship sails at 7:00 pm. Sail overnight to Livorno
Overnight: Cruise
Meals: Breakfast, Dinner
DAY 10 – Full Day in Livorno, Italy
This morning at 7:00 am, arrive in Livorno, located in the heart of the Tuscany region on the Tyrrhenian Sea coast. Livorno is characterized by a large network of canals that were originally built as defensive moats and later served as an important transportation network throughout the city. Perhaps take a cruise on the fossi (moats), or stroll through the Central Market and sample the delicious array of food brought in from the Italian countryside
Overnight: Cruise
Meals: Breakfast, Lunch, Dinner
DAY 11 – Full Day in Palma de Mallorca, Spain
This morning around 8:00 am, arrive in Palma de Mallorca, world renowned island located in the Mediterranean Sea. Explore the charming port and take in its rich history.
Overnight: Cruise
Meals: Breakfast, Lunch, Dinner
DAY 12 – Full Day in Marseilles, France
Today at 7:00 am arrive in Marseilles. Marseilles is the oldest city in the country and second largest after Paris. Thanks to its long and unique past – Greek sailors originally settled the city back in 600 B.C. – this bustling port is filled with history and amazing architecture. It's also one of the most picturesque ports in the country, with fantastic views and scenic backdrops. This evening set sail at 4:00 pm
Overnight: Cruise
Meals: Breakfast, Lunch, Dinner
DAY 13 – Full Day in Barcelona
Arrive in Barcelona at 5:00 am. Barcelona is considered one of the most artistic and culturally rich cities in Spain. Perhaps stop at Park Guell, one of Barcelona's largest urban parks designed by Gaudi, the famous Catalan architect. Originally planned to be an exclusive area for the richest families of Barcelona's bourgeoisie, it later became a public park. Though the park was never fully completed, it is considered one of Gaudi's most colorful and playful works. Don't forget to take a stroll down the historic avenue of Las Ramblas, the most famous and lively street in Barcelona. Sail at 6:00 pm
Overnight: Cruise
Meals: Breakfast, Lunch, Dinner
DAY 14 – At Sea
Enjoy a day at sea aboard the ship as you sail across the Mediterranean to Italy. Take advantage of your ship's many unique features including the rock climbing wall or simply relax by one of the pools
Overnight: Cruise
Meals: Breakfast, Lunch, Dinner
DAY 15 – Full Day in Naples
Today at 7:00 am, dock in Naples, located on Italy's breathtaking southern coast. Explore this picturesque city, or join an excursion to see the impressive sites in the area. Go to the city of Pompeii, destroyed by the Volcano Vesuvius in 79 AD, and has remained remarkably well-preserved by the ash that buried it, or marvel at the natural beauty of Italy's Amalfi Coast, including the Isle of Capri, with its towering rock cliffs and turquoise waters. This evening, sail at 7:00 pm
Overnight: Cruise
Meals: Breakfast, Lunch, Dinner
Day 16 – Disembark Rome Civitavecchia
This morning, arrive to Civitavecchia at 6:00 am. Disembark the ship and transfer to the airport for your departure flight
Meals: Breakfast
*Please note the visit of St. Peter's Basilica is subject to the events planned for the Jubilee.

Accommodations
Italy Tour with Western Mediterranean Cruise Accommodations
2 nights Venice
2 nights Florence
3 nights Rome
7 nights Norwegian Epic, Norwegian Cruise Line®
NCL Amenities:
Inside Staterooms pick 1 offer & ocean view pick 2
Balconies and above receive All 4 Free Offers:
1. Premium Plus Open Bar
2. Specialty Dining
3. Shore Excursion Credits
4. WiFi
Return to browse all the Italy tours with Mediterranean cruises.
To book this all-inclusive Italy tour with western Mediterranean cruise
submit form or call us today 800-227-1577