The 10-Day Rome, Puglia, Amalfi Coast tour is a relaxed paced tour of southern Italy's highlights beginning and ending in Rome. In addition to the region of Puglia this slow paced tour includes the region of Basilicata, and Campania.
The southern Italy tour travels round trip from Rome. Visit southern Italy's sightseeing highlights with 3 nights in both Alberobello in the region of Puglia and Sorrento in the region of Campania. You'll be escorted around southern Italy visiting Rome, Alberobello, Matera, Sorrento, Capri, Pompeii, and the Amalfi Coast and includes 4-star accommodations.
This southern Italy escorted tour from Rome day-by-day itinerary explores the mixture of cultures that colonized the Italic peninsula over the centuries. You'll enjoy rich architecture, music, food, culinary traditions, and culture. Families, friends, groups, and singles will all enjoy history's great civilizations coming to life on this 11-Day Southern Italy tour.
Submit the form or call 800.227.1577 for the price of the all-inclusive southern Italy tour with airfare from your preferred departure city and for more tour information.
Highlights
10-Day Rome, Puglia, Amalfi Coast Tour Highlights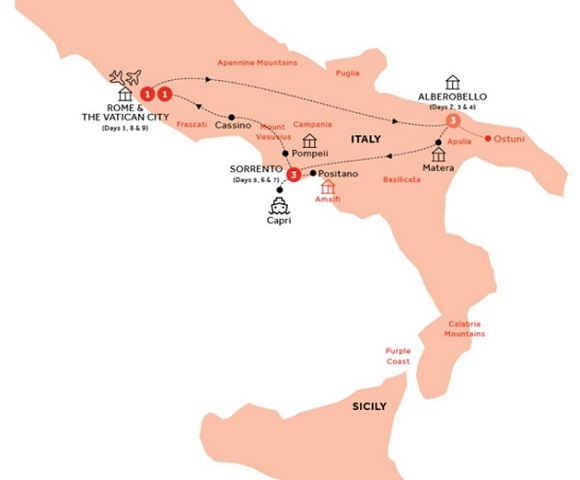 Rome, Puglia, Amalfi Coast Tour Highlights:
Rome: During you orientation with you Travel Director see the medieval buildings, including Renaissance palaces and Baroque churches, scattered throughout the city.
Alberobello: Explore the beautiful UNESCO World Heritage Site of small whitewashed stone houses called Trulli.
Alberobello: Experience the social ritual of la passeggiata.
Matera: With your Local Expert, visit the famous Sassi or cave dwellings, which were home to approximately 20,000 people until 1950 and are now a UNESCO World Heritage Site.
Sorrento: Perched upon the cliffs, lookout to see the mighty Mount Vesuvious across the Bay of Naples.
Sorrento: Enjoy relaxing in the seaside resort town Sorrento, with views of Capri, Naples and Mt Vesuvius.
Isle of Capri: Cruise to this famous isle to meet your Local Expert and wander the beautiful Caesar Augustus Gardens. In the style of the jet-set, descend to the port by open-top taxi.
Isle of Capri: In the style of the jet-set, descend to the port by open-top taxi.
Positano: Drive along the Amalfi Coast to visit this seaside town. See the pastel rainbow of colourful houses precariously stacked upon one another as if cascading from the hilltop to the water.
Scenic Drives: Relax and take in the views as you travel past the Apennine Mountains, along the Sorrento cliff top road, Capri corniche and Amalfi Coast.
Amalfi Coast: Drive along the Amalfi Coast the most beautiful coastline in the world.
To review the daily itinerary click here.
Rome, Puglia, Amalfi Coast Tour Highlights Includes:
Expert and professional English-speaking travel director who travels with group from beginning to end
8 nights First Class accommodations

1 night Rome
3 nights Alberobello
3 nights Sorrento
1 night Rome

Italian city hotel taxes
Hotel portage – We carry your bags for you and promptly deliver them to your hotel door.
Airport transfers included on first and last day of tour if flights are arranged to fall within transfer times.
14 meals: 8 breakfasts, 4 dinners with wine
Sightseeing per itinerary in modern air-conditioned motor coach
Services of local guides in all major cities
Entrance fees per itinerary
Hotel and restaurant tips are included – you'll never have to worry about how much to give, nor search for foreign currency We also include all taxes and porterage charges at hotels.
WiFi included on coach and hotels
Comfortable wireless earphones for enhanced touring – Personal radio headsets give you the freedom to wander during visits to famous highlights, without missing any of your Local Expert's fascinating commentary.
Optional Tours
Rome, Puglia, Amalfi Coast Optional Tours:
Rome By Night – Illuminations Drive
Join your Tour Director for a classic journey through one of the most fascinating cities in the world. Rome by night is a vision with its ancient monuments, classical buildings, palaces and churches beautifully illuminated against the evening sky. A wonderful introduction to the Eternal City!
Masseria Dinner
Puglia is a food lovers paradise, famous for its local dishes using the freshest of ingredients! Tonight it's off to the countryside to a local 'Masseria', a typical ancient fortified 'Farmhouse' of Puglia. We enjoy an incredible, authentic Puglian style dinner in a beautiful setting! A wonderful 'country roads' experience all served up with great wines form this region!
The White Town of Ostuni and Olive Mill
With its stark white-washed buildings, narrow cobbled streets and arched stairways, Ostuni is reminiscent of a North African Arab Medina. Perched high above the beautiful sea, the 'White Town' is a photographer's delight. Then, we'll visit a Mill to taste the renowned olive oil produced in this area that incorporates olives from the ancient groves of Puglia!
The Caves of Castellana
The Grotte di Castellana are one of the most amazing natural wonders of Puglia. Formed about 90 million years ago, the caves are an incredible vision of stalactites, stalagmites and canyons formed by a miracle of nature. The eccentric stalactites here defy the law of gravity by growing horizontally. This is a wonderful opportunity to enjoy one of the most amazing natural visions of Puglia and Italy!
Island Tour of Capri
Experience the spectacular cliffs and famous turquoise waters of Capri during a relaxing cruise to the most beautiful part of the island, the southern side. View the beautiful grottoes and unique coastline before ascending to Capri town. This optional experience is weather dependent and may be replaced by a minibus tour of the Island with a visit to Anacapri and the Villa San Michele.
Delights Of The Bay Of Naples
Among the lemon and olive groves of Sorrento is a small farm owned by the third generation of the Marciano family. Meet Rosa and Maria and see how fresh mozzarella is made by hand. Walk through lemon groves, past the old olive mill before indulging your taste buds in a delicious meal of Italian specialties all fresh from the farm. Finish with a taste of the famous Limoncello.
Sorrento Evening
A chance to enjoy a delicious dinner of local specialties. We arrive at one of the area's unique local restaurants for an incredible dining experience featuring some of the famous dishes of this region!
The Amalfi Experience
Extend your day to complete the entire "World Heritage Coastline" and visit gorgeous Amalfi after which the coast is named. This is an unforgettable experience, we stop to capture the stunning panoramas, impossible sights and enjoy local refreshments enroute before plenty of free time to explore the colorful village Amalfi. A thrilling excursion not to be missed!
Accommodations
Rome, Puglia, Amalfi Coast Tour Accommodations:
Kolbe Hotel Rome – 2 Nights (first and last nights of trip)
The magnificent Kolbe Hotel traces its origins to a 15th century convent. After a skillful restoration, today it is a luxury hotel located in the heart of the city.
Grand Hotel La Chiusa di Chietri Alberobello – 3 Nights
The Grand Hotel La Chiusa di Chietri is a perfect place to relax and enjoy the scenic surroundings.
Michelangelo Hotel Sorrento – 3 Nights
A centrally-located hotel developed around a 7th century tower.
Video
Southern Italy Tour Video
---
Rome, Puglia, Amalfi Coast Tour Daily Itinerary
Travel through Mediterranean history meeting the ancient Greeks, ancient Romans, Byzantines, Normans, Carthaginians, crusaders, Bourbons, and Ottomans on this comprehensive all-inclusive tour of southern Italy. Travel from Rome to Southern Italy's highlights in Puglia and in the region of Campania including the Amalfi Coast, Positano, Capri, and Sorrento. The daily itinerary provides time for your expert Italy tour guide to bring you through the area's rich history and culture.
Day 1 – Fly to Italy
Depart the United States and Canada for an overnight flight to Rome.
Day 2 Welcome to Rome
Arrive in Rome. Transfers from Rome Fiumicino Airport to your Rome hotel is included when you arrive between 8AM and 3PM. This evening at 5PM join your Travel Director to explore the Eternal City, passing the Renaissance palaces and Baroque churches scattered throughout on your way to a local Roman restaurant where you'll enjoy authentic Roman food while getting to know your fellow travelers.
Hotel: Kolbe Hotel Rome.
Meals: Dinner with Wine
Day 3 – Across the Apennines to the Trulli Town of Alberobello
(Relaxed Start) Head southeast, through the sun-baked landscapes to the region of Puglia and its most spectacular town, Alberobello, a UNESCO World Heritage Site. Explore the small, white-washed stone houses – known as Trulli – which are clustered together throughout the city and built entirely without mortar.
Hotel: Grand Hotel La Chiusa di Chietri
Meals: Buffet Breakfast, Dinner with Wine
Day 4 – Exploring Alberobello
(Relaxed Start) Puglia is a paradise for wine-lovers. Join an expert vintner for a tasting of the region's most robust and structured reds – as rich and complex as anything you'll find in Tuscany! For your Dine-at-Home experience, you are welcomed into a local family's home. See Nonna making orecchiette pasta and join her for a traditional freshly-prepared south Italian meal.
Hotel: Grand Hotel La Chiusa di Chietri
Meals: Buffet Breakfast, Dinner with Wine
Day 5 – Free Time in Alberobello
(Relaxed Start) The day is free for you to enjoy this extraordinary town as you wish. Why not join an Optional Experience to the stunning city of Ostuni? With its dazzling white-washed houses and fascinating history, it is a true delight.
Hotel: Grand Hotel La Chiusa di Chietri
Meals: Buffet Breakfast
Day 6 The Sassi di Matera and Sorrento
Visit Matera with a Local Expert for an in-depth exploration of the UNESCO World Heritage Site of Sassi – a labyrinth of cave dwellings, churches, staircases and arches, hewn out of the solid rock. You may recognise Matera as the biblical backdrop for the film 'The Passion of the Christ.' Your journey continues with rolling green hills and wide mountain views paving the way, as you head towards the Tyrrhenian Sea. Take the dramatic coastal road to the lively clifftop town of Sorrento.
Hotel: Michelangelo Hotel
Meals: Buffet Breakfast
Day 7 Capri, The Isle of Dreams
Board the jetfoil to the sun-drenched island of Capri. Arrive at Marina Grande and take a funicular ride up to Capri town. A Local Expert escorts you to the luxuriant Caesar Augustus Gardens for views of the Faraglioni rocks and a crunchy, refreshing lemon granita – a specialty of the island. Savour the cosmopolitan mood of the Piazzetta before descending to the port by open-top taxi and returning to Sorrento where you are at leisure for the rest of the afternoon.
Hotel: Michelangelo Hotel
Meals: Buffet Breakfast
Day 8 – The Amalfi Coast and Sorrento
(Relaxed Start) Travel along Italy's finest coastline, the Amalfi Coast. Stop for a bird's-eye view of the terraced houses of Positano before venturing in to the heart of the town. There's time to be tempted by the boutiques before returning to Sorrento to enjoy stunning views down to the clear waters of the Bay of Naples. Sorrento's main square, Piazza Tasso, is a hub of activity; maybe relax over coffee and contemplate your options. You could stroll down to the harbour, visit the Church of St. Francis, take a swim from the foot of the cliffs or just relax and enjoy the warm, southern sunshine.
Hotel: Michelangelo Hotel
Meals: Buffet Breakfast
Day 9 Pompeii and Rome
Journey north to the ancient Roman city of Pompeii, eerily preserved by the eruptions of Mount Vesuvius in A.D. 79. Your Local Expert walks you through cobbled streets to explore some of the shops, villas and temples. Witness the colourful frescoes that were hidden for centuries. Continue beneath the brooding hilltop monastery of Monte Cassino and back to Rome where your journey reaches its zenith in the evening. In the heart of the Eternal City, you are treated to a quintessential Italian experience – fine food, wine, music and a private performance of enchanting operetta for your Celebration Dinner.
Hotel: Kolbe Hotel Rome.
Meals: Buffet Breakfast, Dinner with Wine
Day 10 Arrivederci Roma
Departure transfers arrive at Rome's Fiumicino Leonardo da Vinci Airport at 07:00 and 09:30.
Meals: Buffet Breakfast
Click here to review the southern Italy tour accommodations.
For more southern Italy vacation options click southern Italy tours packages.