The 10-Day Venice, Florence, Rome leisurely classic Italy tour includes 2 nights in Venice, 2 nights in Florence, 1 night in Umbria and 3 nights in Rome. In addition to Italy's great cities Venice, Florence, and Rome the tour itinerary includes visits to Tuscany's Pisa and Siena, Umbria's Assisi and Torgiano, and a full day excursion with guided tour of Pompeii. To book the trip to Italy and for the price of the Italy tour with airfare from your city submit form or call 800-227-1577.
Highlights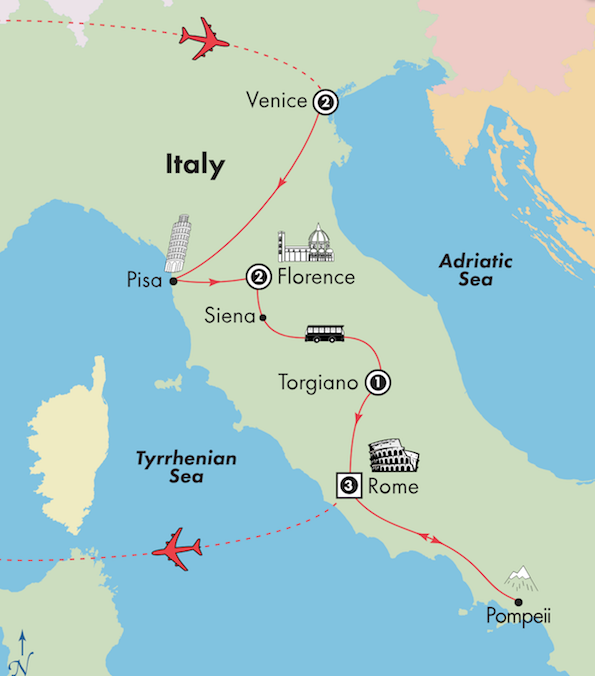 Sightseeing Highlights
St Mark's Square, Venice
Wine tasting with local specialties in Tuscany
Michelangelo's David, Florence
Stop in Siena, a lovely medieval city, known for its famous Palio horse race
Basilica of St. Francis, Assisi
Forum & Colosseum, Rome
Vatican Museum & Sistine Chapel, Rome
Travel past the Bay of Naples and Mt. Vesuvius to visit the Ancient Roman city Pompeii
Wine & mineral water with all dinners
Whisper technology enhanced touring
For the daily trip itinerary click here.
Escorted Italy Vacation Package Includes
Submit form for air itinerary and price of the tour with airfare.
Airport transfers included when tour booked with air.
Airline taxes & fuel surcharges
8 nights First Class accommodations

2 nights Venice
2 nights Florence
1 night Torgiano
3 nights Rome

Italian city hotel taxes
Luxury motor coach transportation between cities in Italy
11 meals: 8 buffet breakfasts, 5 dinners with wine
Sightseeing per itinerary in modern air-conditioned luxury motor coach
Services of English-speaking tour manager throughout
Services of local Italy tour guides in all major cities
Entrance fees per itinerary with vip skip the line entrance.
Accommodations
Venice, Florence, Umbria, Rome Tour Accommodations:
Submit form for accommodations scheduled to be included with your departure date.
LaGare Hotel Venezia, Murano, Venice, 2 Nights
This first class hotel is situated on the island of Murano.
Hotel Ambasciatori, Florence, 2 Nights
This first class hotel is located nearby the Santa Maria Novella railway station.
Hotel Diplomat, Florence, 2 Nights
This first class hotel sits within walking distance of Florence's main shopping center and the Exhibition Halls.
Hotel Le Tre Vaselle, Torgiano, Umbria, 1 Night
This superior first class hotel is situated in the Umbrian village of Torgiano.
The Hive Hotel, Rome, 3 Nights
This first class hotel is about a five minute walk from the Roma Termini railway station.
NH Collection Roma Centro, Rome, 3 Nights
This first class hotel is located in Rome's residential district of Prati.
Optional Tours
Optional Tours & Excursions
The following optional tours are available during what is otherwise free time and are not included in the tour price.
Venice Tour:
Gondola Ride
One of the highlights of any Italian holiday! Enjoy a relaxing gondola ride with music along the famous Grand Canal, and experience a piece of Venetian history. Glide along the centuries old canals, past lavish palaces and under famous arched bridges (the Gondola holds a maximum of six passengers. Please note that this is not a private gondola ride. There will be one musician on board of one of the gondolas in your fleet).
Florence Tour:
Uffizi Gallery
Available for purchase only in Italy from your Tour Manager. Tour Participation guarantees immediate entry to the Gallery, with no lengthy waits in line. Please note: The museum has a limited maximum capacity and therefore reserves the right to restrict admission. In this case, we may not be able to offer the tour. Price is based on minimum number of passengers.
Click the links below for other Italy tour package Venice Florence Rome:
---
DAY 1 – Depart the USA
Depart the USA for Italy. Your flight includes meals, drinks, and in-flight entertainment for your journey
DAY 2 – Arrive in Venice
Arrive in Venice and transfer to your hotel. Balance of the day at leisure. This evening, enjoy an orientation meeting with your tour escort, followed by a welcome dinner
Overnight: Venice
Meals: Dinner
DAY 3 – Venice City Tour
Today begins with a boat ride to the Island of Murano, known throughout the world for its fine glasswork industry. Then, visit St. Mark's Square to begin a guided walking tour of romantic Venice. View the Golden Basilica of San Marco, the Bridge of Sighs and visit the Doge's Palace, whose facade features a massive late-Gothic gate, known as the Porta della Carta. Take the remainder of the day to explore Venice on your own
Optional: Gondola Ride with Music (PM)
Overnight: Venice
Meals: Breakfast
DAY 4 – Pisa Sightseeing En Route to Florence
Travel through the stunning panorama of Tuscany to Pisa. On arrival, view the famous Piazza del Miracoli with its Leaning Tower, the Baptistery, the Duomo, and the Monumental Cemetery. The four monuments of this extraordinary piazza make for a unique architectural blend of Romanesque and Gothic styles. En route to Florence, visit a local Tuscan farm in the countryside for a wine tasting with local specialties. Evening at leisure
Overnight: Florence
Meals: Breakfast
DAY 5 – Florence City Tour
Today's morning tour begins with a visit to the Accademia of Fine Arts, where Michelangelo's David is housed. Walk to the Duomo, celebrated for its magnificent dome designed by Brunelleschi, and view the Baptistery's renowned "Gates of Paradise" by Ghiberti. Continue to explore the open air art museum of Signoria Square ending at Ponte Vecchio, known as the "Old Bridge." Enjoy the afternoon at leisure in Florence. This evening, dine at an authentic Tuscan restaurant in the countryside
(Optional Uffizi Gallery Tour PM, $65): **available for purchase Only in Italy from your tour escort. **
Florence and the fine arts are synonymous. This guided tour of the Uffizi Gallery provides insight to the history of the structure and its collections. Originally the private collection of the Medici family, the palazzo was opened to the public in 1765. Your tour highlights exceptional examples of Florentine painting with an aim to help you better understand the works of masters including Giotto, Botticelli and Leonardo da Vinci. Following the tour, enjoy a refreshment break and complimentary beverage at the museum's cafe, which features a breathtaking view of the city. Tour participation guarantees immediate entry to the Gallery, with no lengthy waits in oftentimes two-three hour queues. ** Important: Please note that the Museum has a limited maximum capacity and therefore reserves the right to restrict admission. In this case we may not be able to offer the tour. Price is based on minimum number of passengers.
Overnight: Florence
Meals: Breakfast, Dinner
DAY 6 – Medieval Siena and Umbria
Delight in the scenery as you drive through the Chianti area, en route to Siena where you will take a step back to medieval Tuscany. The heart of the city, Il Campo, was declared a UNESCO World Heritage Site. Its celebrated centuries-old Palio horse race takes place twice every summer, with participants riding bareback around the spectator-packed square, along with non-stop 24 hour celebrations. The city sits over three hills accented by the huge square where the Roman Forum once stood and dominated by the red Palazzo Pubblico and its tower. Stroll leisurely on your own before departing for Umbria. Enjoy dinner tonight at your hotel
Overnight: Torgiano
Meals: Breakfast & Dinner
DAY 7 – Assisi, Vatican Museums & Michelangelo's Sistine Chapel
This morning visit the small medieval town of Assisi perched high on a hill in the Umbria region, with its Roman ruins, winding streets and sacred shrines. Assisi is best known as the birthplace of St. Francis of Assisi – patron saint of Italy. Its main attraction is the 13th-century Basilica di San Francesco, one of the artistic highlights of medieval Europe which contains the sacred relics of St. Francis and Giotto's astonishing frescoes. The town of Assisi has been designated a UNESCO World Heritage Site for its significant art and architecture. Enjoy time on your own before departing for Rome. Upon arrival in Rome visit the Vatican Museums and Michelangelo's masterpiece, the Sistine Chapel. Stroll through one of the most important art collections of the world. Admire the Gallery of Tapestries and the Geographical Maps before arriving to the Sistine Chapel, with its great frescoes by Michelangelo.
Overnight: Rome
Meals: Breakfast & Dinner
DAY 8 – Tour Ancient Rome
This morning, a historic tour of "ancient Rome" takes you to the Roman Forum, the political center during the Roman Republic, the triumphal Arch of Constantine, the Arch of Titus and the Colosseum, the largest amphitheater built in the Roman Empire. Afternoon at leisure.
Overnight: Rome
DAY 9 – Pompeii excursion from Rome
Depart Rome this morning on a full day excursion to Pompeii. Drive along the Sun Route motorway through the scenic regions of Lazio and Campania, rich in astonishing natural beauty. At a distance, you can view (weather conditions permitting) the magnificent Abbey of Montecassino perched high on the mountaintop, scene of a huge battle near the end of World War II in which the Abbey was completely destroyed, but now lovingly restored. As you pass the Bay of Naples, majestic Mt. Vesuvius marks the way to Pompeii, visit the city that was frozen in time under a thick carpet of volcanic ash almost 2,000 years ago. The tragic fossils of people attempting to escape, along with their children and dogs are still visible, along with the preserved ruins of the Temples of Apollo and Jupiter, and the Forum. Leisure time for lunch on own before returning to Rome. Tonight join a scenic drive through the city and dinner in a typical Roman restaurant with wine and music.
Overnight: Rome
Meals: Breakfast & Dinner
DAY 10 – Depart for the USA
Transfer to the airport for your departure flight
Meals: Breakfast