The luxury Italy tours are all-inclusive packages designed to take the hassle out of planning your fabulous Italy luxury vacation. Enjoy a luxury tour of Italy experiencing the best that Italy has to offer. Private and group Italy luxury tours available.  These tours are perfect for singles, couples, honeymooners, families, seniors, and small groups. We guarantee that you'll enjoy all of these Italy luxury tours.
2 Nights Stresa
2 Nights Turin
2 Nights Santa Margherita
1 Night Parma
2 Nights Treviso
The 11-day Northern Italy Small Group Tour travels from Stesa on Lake Maggiore. Destinations include Turin in the Piemonte region. Then the tour travels to the Italian Riviera with two nights in Santa Margherita where you'll visit Portofino and Cinque Terre. Also the tour includes Italy's culinary capital and charming town Parma.  Finally, this luxury Italy tour ends in Treviso located in the Veneto region. For information click here.
2 Nights Milan
2 Nights Lake Maggiore
2 Nights Verona
2 Nights Bologna
2 Nights Venice
The 11-day Northern Italy and Italian Lakes luxury Italy tour begins in Milan. The tour then travels east across Northern Italy. Destinations include Bellagio on Lake Como, Stresa on Lake Maggiore, Bergamo, Brescia, Modena, Bologna, Verona and Venice. For more information click here.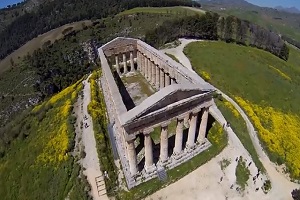 2 Nights Palermo
2 Nights Sciacca
1 Night Ragusa
2 Nights Siracusa
2 Nights Taormina
The 11-day luxury Sicily tour is a comprehensive trip through Sicily. The tour itinerary includes Palermo, Erice, Segesta, Agrigento, Noto, Taormina, Mt Etna, Ragusa, SiTracusa, and Monreale. For more information click here.
2 nights Venice
2 nights San Giuliano Terme
2 nights Florence
1 night Torgiano
3 nights Rome
The 12-day Venice, Florence, Rome Italy small group tour includes a maximum of 22 travelers. The tour itinerary includes visits to the classic Tuscan towns Lucca and Siena and the quintessential Umbrian town Torgiano. Furthermore, the tour includes an excursion to Cinque Terre. For more information click here.
2 nights Stresa
2 nights Sestri Levante
4 nights Cortona
2 nights Venice
Experience the romance of Northern Italy come to life. You'll experience it all at a leisurely pace and luxury accommodations. Enjoy 2 wonderful nights in each of Stresa, Sestri Levante (Cinque Terre) and Venice, and 4 nights experiencing authentic Tuscany in a villa accommodation located in Cortona. These are Northern Italy's treasures. This is the perfect tour to explore the treasures of Italy's north. For more information about this luxury Italy tour click here.
2 Nights Rome
2 Nights Capri
1 Night Perugia, Umbria
3 Nights Tuscany
1 Night Rapallo, Italian Riviera
2 Nights Venice
Step on the red carpet for the ultimate luxury Italy tour. Your Italy luxury tour visits Italy's cities and breathtaking coasts. Travel to the sea visiting the Isle of Capri – drenched in sun, draped with luxury villas. Then travel to Tuscany to tour the charming hill towns. Furthermore, head to the Italian Riviera where you'll visit the rugged scenery of the Cinque Terre and postcard perfect Portofino.  You'll also visit Italy's cultural gems Rome, Florence and Venice. For more information click here.
2 nights Sorrento
3 nights Rome
2 nights Torgiano, Umbria
1 night Viareggio, Tuscany
3 nights Florence
2 nights Venice
Enjoy an intimate travel experience on this two-week Italy luxury tour. This trip includes small, chic hotels in the heart of Sorrento, Rome, Venice and Florence. The tour itinerary includes Amalfi, Pompeii, Assisi, San Gimignano, Orvieto, Viareggio, in addition to Italy's great art cities. For more information click here.
2 nights Palermo
2 nights Marsala Area
1 night Agrigento
2 nights Ragusa
2 nights Catania
3 nights Sliema
Join up to 22 like-minded travelers on this all-inclusive small group Italy tour to Sicily and Malta. The 14-day Sicily and Malta tour itinerary includes diverse activities including tours of churches, palaces, winery visit & even a homemade pizza cooking class. Visit Sicily's highlights including Palermo and its Norman culture, Agrigento and its Ancient Greek Temples, Ragusa and its Baroque Architecture, the resort town of Taormina, and much more. Then travel to Malta to Valletta and Gozo. For more information click here.
Small Group Luxury Italy Tours
Whether you decide to tour Italy independently or join one of the small group luxury Italy tours, you'll enjoy traveling through Italy's gorgeous regions in luxury and comfort. Stay in Italy's finest luxury hotels. Enjoy the finest culinary traditions at all meals. All-inclusive Italy luxury tours include the best English-speaking Italy tour guides, top Italian chefs, fine artists, and art historians all ready to bring Italy to life. Visit Italy's best museums and exclusive galleries before or after hours.
Click on the luxury Italy tours listed here to let your dreams of Italy be reality. Click on the links for more information about each of the tours.  Enjoy an luxury Italy tour itinerary with 4- and 5-star luxury Italian hotels, fabulous tours, Italy's finest cuisine for authentic Italian meals. The luxury Italy tours may be booked with airfare from your home city or land only.
Luxury Mediterranean Cruises
Sail down the Adriatic Sea from Venice to the super-exclusive Croatian ports of call on this Dalmatian Coast luxury cruise tour. Explore medieval castles, ancient forts, and walled cities. Journey inside history from the ancient Greeks to the Venetian Republic to today's Jetsetter's paradise along the Dalmatian Coast, including Dubrovnik, Venice, Hvar, Kotor, Sibenik's Cathedral, and Diocletian's Palace in Split. For more information click here.
The 12-day all-inclusive luxury Italy cruise tour travels between Rome and Malta. Land tour in Rome includes a visit to the Vatican Museum. Cruise the Amalfi Coast, Aeolian Islands, Sicily, and Malta. For more information click here.
To arrange your luxury Italy tour click the links or call 800.227.1577