Puglia sightseeing explores southern Italy, where different Mediterranean cultures came together to form a combination of styles. In this Puglia travel guide you'll find information regarding popular Puglia destinations to help you plan your trip.
Puglia is a peninsula with beautiful coasts. It touches the Adriatic Sea, Ionian Sea, Gulf of Taranto and Strait of Otranto. Some of the Puglia coast is rocky coves and dramatic cliffs. There is also plenty of beach space to go round for everyone.
Generally Puglia enjoys temperate weather. The two coasts also play an important part in the summer by helping to moderate the heat. Near the coast the average summer temperature is around 25ºC. Inland the summer temperature is 30ºC.
---
Puglia Travel Guide Video
For more information about planning a vacation to Puglia check out the Puglia travel guide video.
---
Puglia Location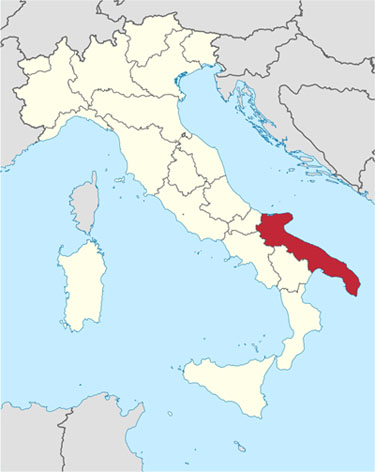 Puglia is located in southern Italy. It occupies the heel of Italy's boot. The east coast is its longest along the Adriatic Sea. To its south is the Ionian Sea. The Gulf of Taranto is along its west coast.
To Puglia's north is Molise, a tiny little Italian region with a sliver of land along the Adriatic Coast. Northwest is the popular southern Italy region Campania. West is Basilicata.
Check out the Puglia travel guide map below for more about Puglia's destinations.
---
Puglia Travel Guide Map
The Puglia travel guide map is interactive. Click the upper left corner of the map to display the Puglia sightseeing points of interest that correspond with locations on the map.
Puglia's popular tourist destinations include its main city and Adriatic cruise port of call Bari. Alberobello is known for its Trulli houses. Lecce is known if its baroque architecture, which is common throughout the region. And Otranto is literally at land's end in the heel of Italy's boot.
---
Puglia Sightseeing Highlights
Puglia is a long skinny region. Regional Puglia sightseeing highlights include in the north the Gargano Promontory, central inland the Itria Valley, and south the Salento Peninsula.
Puglia's sightseeing highlights include charming whitewashed towns and some of the best beaches in southern Italy. Its picturesque countryside is dotted with olive groves, farms and vineyards.
Puglia's long coastline along the Adriatic and Ionian seas and Gulf of Taranto make it a popular Italy summer vacation destination.
The region's towns are full of history. Bari is Puglia's main city. Lecce is another town that attracts tourists for its Baroque architecture.
Three UNESCO World heritage sites are location in Puglia; Alberobello, Castel del Monte, and Sanctuary of St. Michael.
The region is known for its great food and wine. Puglia produces nearly all of Italy's olive oil and pasta, and is a paradise for wine-lovers and gastronomes.
Below are towns to consider when planning your trip Puglia.
Alberobello
Alberobello is know for its Trulli structures. These "igloos made of stone" have conical roofs and round design. Their uniqueness draw tourists and give the town a storybook quality. These are now protected as a UNESCO world heritage site. Alberobello is certainly one of the most popular Puglia sightseeing destinations.
Bari
Bari is an unspoiled old city. it is the capital of Puglia. Bari's cruise port is port of call for many cruises around Italy. Bari's sightseeing highlights include its Old City (Bari Vecchia). Here you'll see the Bari Cathedral and Romanesque Basilica of San Nicola, where relics of Father Christmas St. Nicholas are found. The Castello Normanno-Svevo wNs built by the Normans in the 12th century.
Castel del Monte
Castel del Monte, an extraordinary medieval fortress celebrated for its unique octagonal design. Declared a UNESCO World Heritage Site, this 13th century castle, built by Frederick II, is considered one of the best preserved medieval castles in Southern Italy. It was used as a site in the famous movie "The Name of the Rose" with Sean Connery.
Castellana Caves (Grotte di Castellana)
Located at the entrance of the Itria Valley, a few kilometers from charming villages such as Alberobello, Cisternino, Polignano a Mare, the Castellana Caves (Grotte di Castellana) began to form about 90 million years ago.
The Grotte di Castellana are one of the most amazing natural wonders of Puglia. The caves are an incredible vision of stalactites, stalagmites and canyons formed by a miracle of nature. The eccentric stalactites here defy the law of gravity by growing horizontally.
Gargano Peninsula
The Gargano Peninsula is a scenic part of Puglia. It is green and mountainous with lush pine forests, olive groves, and a dramatic coastline of white limestone cliffs, colorful sea caves, and long sandy beaches.
The Gargano Peninsula juts out into the Adriatic Sea and is called the spur in the heel of Italy's boot. Most of the area is a national park, and aside from some seaside resorts, is unspoilt. It's a popular summer spot for Italians, but in the off season you can have the beaches, forests, and hill towns to yourself.
North from Vieste to Peschici and south to Mattinata there are dozens of beaches to explore—sandy and pebbly, long stretches and hidden coves, some empty and others with sunbeds and cafes and water sports. You can explore these by car, bicycle (if you don't mind hills), or boat. The sandiest beaches are between Vieste and Peschici while those further south are pebbly, often with dramatic cliff backdrops.
Lecce
Lecce is one of the largest towns in southern Italy. Its allure is in the Baroque architecture that adorns its buildings. Here you'll find Baroque architecture set among ancient Roman ruins. Right in its center is the remnant of an ancient Roman amphitheater. It is known as the 'Florence of the South".
Because Lecce is a university town it stays young and hip. Lecce is one of southern Italy's most contemporary towns yet infused with the ancient and Baroque.
Click Lecce sightseeing for more travel guide information.
Locorotondo
Locorotondo, which means, "round place" takes its name from its historical center, which is circular in structure.
While Puglia is well known for its seaside towns, Locorotondo is perched atop of a hill providing panoramic views of the countryside and and olive groves.
This beautiful little town is not touristy, rather a charming place to visit and enjoy for its authentic southern Italian Puglia life.
Margherita di Savoia
Named after Italy's Queen Margherita, Margherita di Savoia is little seaside town. It's sea salt may be its most famous export. Looking for a day at the beach on the Adriatic then you'll find a few beaches here to spend the day.
Martina Franca
Martina Franca is a town with a fascinating Moorish atmosphere and fantastic Baroque architecture yet a very modern buzz. Like Puglia's other attractive towns, Martina Franca's historic center (centro storico) does not disappoint.
Monopoli
Monopoli is an ancient town that dates back to the early Greeks. Its setting right on the Adriatic Sea make it an attractive and fun town to stroll. The seawall and fishing port provide a charming backdrop for the evening passeggiata. And its white washed buildings and maze of streets in the centro storico are typical to southern Italy.
And if the town is not enough, there you'll find a lovely beach popular with the locals.
Ostuni
From a distance the hillside gleams in the reflections of Ostuni's white houses. Ostuni is called "the white city" ('la citta bianca') because of the whitewashed houses of the Old Quarter.
Inside Ostuni there are piazzas, hip hotels, and trendy caffes. Outside the town the hillsides are dotted with olive groves and boasting views out to the sea. The summation of it all is one of the coolest towns in all of southern Italy.
In Ostuni you will be able to enjoy a hilltop town to rival those of Umbria. Frederick II's 13th century Swabian castle creates an air of mystery among the ancient cobbled streets of the historic center.
Ostuni Sightseeing
Any trip to Ostuni should start at Piazza della Liberta with the Town Hall (in an old monastery) and the church of St. Francis of Assisi. The old town has several beautiful churches (the cathedral and the church St. Maria Maddalena), but the highlight of Ostuni is its intricate maze of alleys and stairways where you can easily lose yourself and discover little treasures along the way.
Near the top of the hill, Ostuni Cathedral is an impressive and restful place to sit for a while during your exploration. From the outside, it appears to be the only building that is not whitewashed – with its green and gold tiled dome giving it a bit of an Eastern feeling. Near the cathedral, on the top of the hill, is a panoramic view down over the olive trees to the Adriatic. The sea view looks very tempting from up there.
Baroque squares, white-washed cobbled streets full of quaint cafes and shops, Ostuni is a fascinating place to visit and to immerse yourself in Italian life. On your way in be sure to stop off for a cafe latte in the town's park, which boasts paths fringed by giant palms and a children's playground.
Otranto
All the way south is Otranto. it is now a tourist town that retains true artistic and architectural jewels. The city tour can start from the the old town where you can enjoying an amazing panoramic views of the bay. Not far away is the Cathedral which features a mosaic floor representing the tree of life. The Byzantine church of St. Peter is another pearl of Otranto, which dates back to the ninth century and houses precious frescoes. A little further on, to protect the port, there is the Castle built by Frederick II of Swabia in 1226 and subsequently amended by the Aragonese and the Emperor Charles V.
Polignano a Mare
Maybe best known for its picturesque beach set between two cliffs. Its centro storico is also a classic southern Italy town. And it takes the world stage for its annual cliff diving competition.
Sanctuary of Monte San Michele
The Sanctuary of Monte San Michele (Sanctuary of St. Michael the Archangel) is located in Monte Sant'Angelo, a small town on the Gargano Peninsula.
A UNSECO World Heritage site, The Sanctuary of San Michele Arcangelo is the cave where, in 490 A.D. the apparition of St. Michael the Archangel came to a shepherd. The Sanctuary consists of a complex of buildings dating back to different historical periods, built around the natural cave where 4 apparitions of St. Michael the Archangel occurred.
Trani
Trani is coastal town located on the Adriatic Coast. It is nice city to visit. You'll find waterfront bars, restaurants, and public gardens, as well as the typical Made in Italy shopping boutiques.
Vieste
Vieste is the easternmost town of the Gargano peninsula. It juts out into the waters of the Adriatic Sea. The town is surrounded by while limestone walls.
Vieste's coastline is lined with sea caves, grottoes, and secluded coves. To the sides of the town is sandy beach.
---
Tours of Italy that include Puglia Sightseeing
The following tours of Italy include Puglia destinations on the itinerary.
| Italy tours that include Puglia sightseeing | Puglia Destinations |
| --- | --- |
| 10-Day Puglia, Basilicata, Campania, Amalfi Coast | Alberobello, Bari, Castel del Monte, Lecce, Otranto, Salento, Santa Maria di Leuca |
| 10-Day Rome, Puglia, Amalfi Coast | Alberobello, Castellana Caves (Grotte di Castellana), Ostuni |
| 12-Day Sicily Tour and Southern Italy Tour | Alberobello |
| 14-Day Small Group Southern Italy Tour | Alberobello, Grottaglie, Lecce, Monopoli, Ostuni, Otranto |
| 15-Day Rome to Sicily Tour | Alberobello, Castellana Caves (Grotte di Castellana), Ostuni |
| 15-Day Southern Italy Tour and Sicily Tour | Alberobello, Bari, Lecce, Martina Franca, Polignano a Mare |
| 18-Day Sicily and Italy Tour | Alberobello, Ostuni |
For more information about trips to Southern Italy click here.
Return to the Italy travel guide.