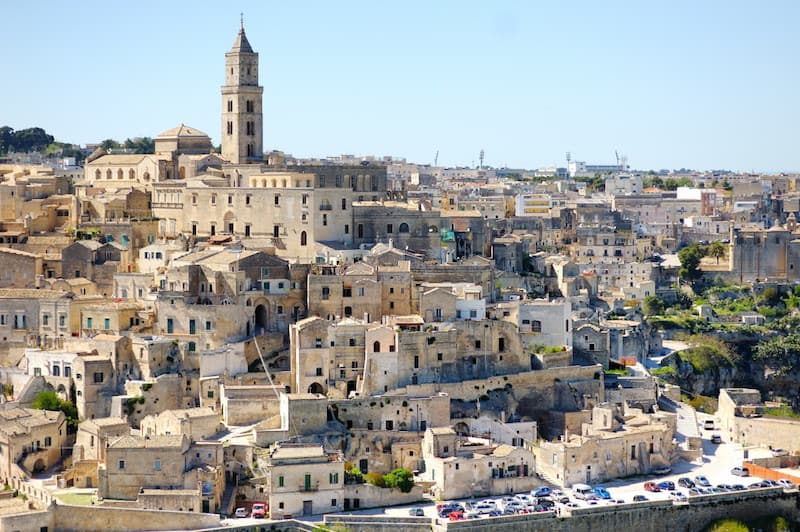 Basilicata sightseeing is a journey into southern Italy. Experience mosaics that are as mixed as the cultures that made them. Stroll fine sandy Southern Italian beaches. Explore the ancient cultures that made their home along the arch inside southern Italy's boot. The history of this area is rich due to its location at the cross roads of ancient Greek, Roman, Oriental, and North African civilizations. For more about sightseeing in Basilicata watch the Basilicata sightseeing video below. For more information about southern Italy vacations check out our trips to southern Italy.
 Basilicata Sightseeing Video

Basilicata Sightseeing Highlights
The Basilicata region, in the arch of Italy's boot, is bordered on two sides by the Ionian and Tyrrhenian Seas. Basilicata boasts unpolluted beaches (such as in Maratea) and remote natural preserves that have benefited from the remoteness of the area. Ancient Greek ruins are scattered around the region.  It is the birthplace of the Roman poet Horace. Metaponto, a city founded by the Greeks, is home to the well designed Museo Archeologico Nationale which features 4th and 5th century statues, ceramics, and other artifacts preserved from the unique Basilicata history. The caves of the inland town of Matera, one of the most well-known fragments of Basilicata history, attract scholars, writers, and artists worldwide. These caves, inhabited until recently, are houses dug out of tufa (volcanic) rock ravines which were the dwellings used by inhabitants of the region since Paleolithic prehistoric times. The famous Italian author Carlo Levi highlights Matera and its unbelievable poverty in his touching book Christ Stopped at Eboli.
Since UNESCO claimed the city a World Heritage Site, relief efforts have brought aid to the city, and now there are even bars and restaurants there. The Basilicata region is known for its spicy food (infused with peperoncini – small chili peppers) and great seafood, as well as native wild mushrooms and ricotta cheese.
For more information about touring Italy check out our Italy travel guide.