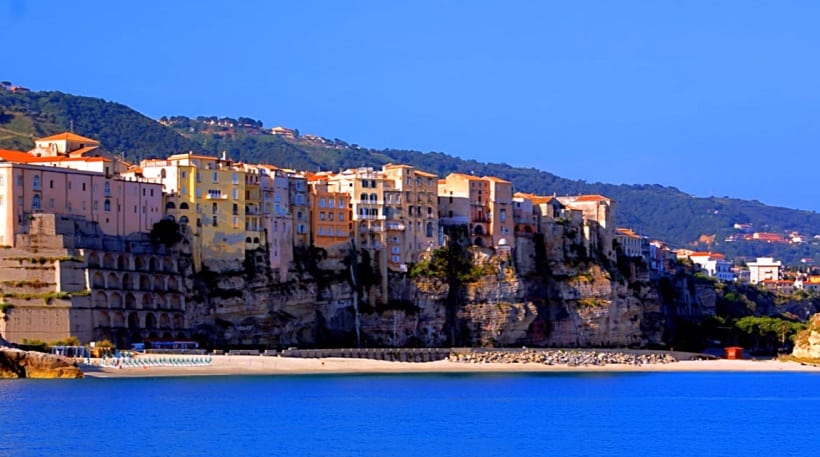 Calabria sightseeing into history and culture going back thousands of years. This southern Italian region is located below Naples and the Amalfi Coast on Italy's west coast.  Here along the Mediterranean sea Calabria's beach coves are perfect for romantic getaways in southern Italy. Calabria is in the toe of Italy's boat. Many Italy vacations pass through Calabria on their way to Sicily. Sicily and Calabria are closest on the Strait of Messina where they are separated by 2 miles. Through its history Calabria has been inhabited by various cultures all whom left their unique marks.  This makes its history rich and its culture colorful. Beautiful beaches, gardens, and cliffs make for a dramatic Southern Italian scenery. For more about sightseeing in Calabria watch the Calabria sightseeing video below.
 Calabria Sightseeing Video

Calabria Sightseeing Highlights
Hikes and outdoor loves will enjoy trekking through Calabria's three mountain ranges: Pollino, La Sila and Aspromonte. All three mountain ranges flora and fauna are unique. The Pollino Mountains in the north of the region are rugged and form a natural barrier separating Calabria from the rest of Italy.
Beach lovers will find plenty of long white beaches to stroll. Along the coastlines, the Mediterranean climate averages 46 °F in the winter to averge 86 °F in the summer.
For those headed close to Reggio Calabria the National Museum of the Magna Grecia (Museo Nazionale della Magna Graecia) is worth the trip. There you'll find a collection of bronze statues and artifacts that date to when the ancient Greeks inhabited this area known as the Magna Graecia.
The portion of Calabria that adjoins the Tyrrhenian Sea is a spectacular region in southern Italy with world-class beaches: miles upon miles of white-pebble beaches and see-through aquamarine water. It brings to mind the Big Sur in California.
High on a bluff is Tropea, with shops and trattorias and some of the best vistas on earth.
Praia a Mare is a popular beach resort in Calabria. It includes natural beauty including caves around its Dino Island and above the town in the hills. And it includes historical artifacts from the Norman and Byzantine times.
You owe it to your yourself to find paradise on earth, take a trip to the beaches of Calabria.
For more information about trips to southern Italy click here.