The Italy summer vacation season kicks off with the June 2 Festival of the Republic. Like July 4 in the United States Italy celebrates its national unity.  Italians for over 2000 years appreciate summer vacation so much that they have a holiday for it. On August 15 Italy celebrates high summer with Ferragosto. The 2000+ year tradition includes the entire country closing up shop to hit the beach.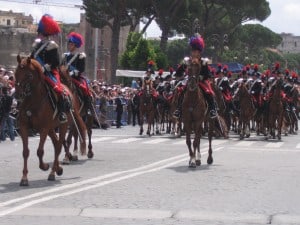 During the summer all of Italy's regions celebrate their heritage with festivals. Including an authentic festival during your Rome, Florence, Venice trip is easy with a night or two stay in an Umbrian or Tuscan Bed & Breakfast Italian-style. These authentic celebrations provide visitors insight into Italy's local history and culture.They are also lots of fun with costumes, food, and music integral to the day's activities..
In Tuscany the Palio horse race in Siena draws locals and travelers from across the world. Umbria's various towns celebrate everything from flowers to jazz to jousting. Pisa, Genoa, Amalfi, and Venice celebrate their maritime history.
Be sure to plan your Italy summer trip early to avoid disappointment. Escorted tours, cruises around Italy, and hotels all fill up early. June and July are peak months for tourists. August is vacation for the Italian people as well so keep that in mind if you are planning to visit Rome, Florence, and Venice, the Italian coastline, Sicily, or the Northern Italian Lakes. You'll be competing for prime vacation destinations with the locals.
Watch the videos below for more information about Italy summer vacations. Click here for Italy summer tour packages.
June Italy Vacations
June is the perfect month for a trip to Italy. Italy's art cities Rome, Florence, Venice are in full bloom before the throng of tourists arrive. Italy's natural beauty destinations along the Amalfi Coast, Northern Italy and Italian Lakes, Cinque Terre, and Sicily are all pleasant in June. The early summer season is a very popular time to tour Italy. June typically has very nice weather for sightseeing. Rekindle deep romance with a gondola ride in Venice. Italy during the summer time is bursting with flowers and festivals.
July Italy Vacations
When planning a vacation to Italy for July consider including the special events and festivals happening. The Siena Palio horse race is a July highlight. The Venice regatta of the redeemer goes to Island of Giudeca. In Umbria in July there are festivals everywhere. Spoleto is most famous for its performing, literary, and musical arts festival. Lake Trasimeno boat race is lots of summer fun. In Todi the summer hot air balloon festival is fun the entire family. The Umbrian Jazz festival in Perugia is another Italy summer highlight.
August Italy Vacations
August Italy vacations are popular with local Italians. Ferragosto in mid August is when they all go on holiday. You'll be competing with them for destination space. The Amalfi Coast, Cinque Terre and Sicily and southern Italy where Italy's beaches are all full of locals. Summer is also a popular time in Northern Italy around the famous Italian Lakes. Lake Como, Lake Maggiore and Lake Garda located below the Alps provide fresh air and great outdoor activites. Biking, canoeing, fishing, are among the favorite activities.
---
Singles, couples, families, groups, honeymooners, and friends will all enjoy a Italy summer vacation. Give High school and college graduates the gift of travel, history and culture with a trip to Italy graduation present.
All inclusive Italy tours with airfare include airfare to Italy, 4-star hotel accommodations, transportation between cities, walking tours of Italy's cities, and museum entrance fees with skip the line tickets.
While staying in central accommodations you will enjoy the best of Italy. Visit Rome's piazzas and fountains. Throw a coin in the Trevi fountain, Marvel the Colosseum and Ancient Roman Forum. piazzas of Rome, Signoria Square in Florence, Piazza Navona in Rome, Capri, all along the tours of Italy. Spring Italy tour packages typically sell out by early December. Summer Italy tours typically sell out by March. Fall Italy tours typically sell out by June.