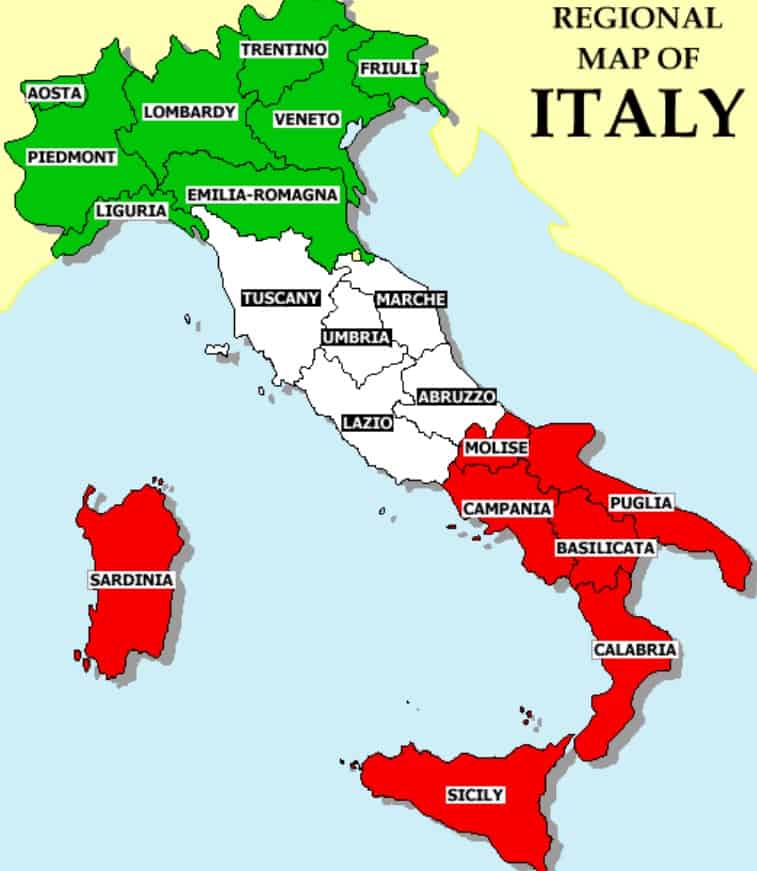 This Italian Tourism Guide provides in-depth information on the many fabulous Italy vacation destinations.  The famous ones like Rome, Florence, Venice, Milan, Tuscany, Sicily, the Amalfi Coast, Lake Como are well known destinations for fantastic holidays. These destinations are, but for Tuscany and Sicily, located inside unique Italian regions. Tuscany and Sicily are regions. Enjoy this guide to Italian Tourism and let it guide you to plan your next trip to Italy.
Within each of the 20 unique Italian regions, such as in Tuscany and in Sicily, there is no shortage of sightseeing activities. Singles, groups, families, and honeymooners are all drawn to Italy for the trip of a lifetime. Italy is the best vacation destination because it's tourism appeals to everyone. Las Vegas and Disney World copy Italy's streets and destinations because it truly is a playground for all. Even kids enjoy touring Italy while learning important lessons about history, culture, and western civilization.
Browse through the Italy sightseeing information on these pages.  You'll find maps of Italy's regions, destination videos, Italy tour reviews, plus interesting information to help you plan the best solo trip, honeymoon, anniversary, family trip, or group vacation to Italy.
Traveling Around Italy's Regions
About Northern Italy

Northern Italy is a popular Italy vacation destination for good reason. It's natural beauty stretches from the southern Alps which is the backdrop to the Italian Lakes district, down to the Italian Riviera along the coast of Liguria, which includes Cinque Terre. In northern Italy you'll find the great cities Milan located in the region of Lombardy, Turin located in the region of Piedmont, and Venice in the region Veneto.
The Cinque Terre, the Italian Riviera and Portofino are all located in Liguria.
The Italian Lakes district spans across northern Italy and the Italian Alps. From the west is the region of Piedmont, which includes Lake Orta and Lake Maggiore. Heading east in the Lombardy region is Lake Maggiore. Further east in the Veneto region is Lake Garda.
The bountiful Emilia Romagna and the Po river separate northern Italy from central Italy. Bologna, Modena, Ferrara, Parma, Ravenna, and Rimini are all popular world class Italy vacation destinations located in Emilia Romagna.
Among the lesser known but no less beautiful northern Italian regions are off the beaten track Italy vacation destinations the regions of Aosta, Friulli, and Trentino.
About Central Italy
The capital of Italy is Rome. It is located

in the region of Lazio.
Located right in the center of Italy Umbria is popular Italy vacation destination.
Le Marche is located along Italy's Adriatic Coast. Nice Italian beaches, seafood, and water sports are found in Le Marche. You'll also find a few all inclusive Italy vacation resorts along the coast.
South of Le Marche and East of Lazio is Abruzzo, located along the Adriatic sea.
Florence is located in the region of Tuscany.  Chianti, Siena, San Gimignano, Lucca, Pisa, and Volterra are al popular Tuscany vacation destinations.
Sardinia is an island in the Mediterranean Sea located off coast of Tuscany. Here you'll find some of the best beaches in Italy.
About Southern Italy
Naples, Capri, Sorrento and the Amalfi Coast are located in Italy's Campania region. The area is known for its natural beauty. Mt Vesuvius, the Bay of Naples, mountain cliffs dropping thousands of feet to beautiful turquoise waters that lap along the coastline all combine to make a relaxing perfect vacation setting. Its history is also long. Naples is the oldest continually inhabited city in the world. And its food is local, organic, and delicious. For all these reasons Campania is very popular with tourists.
Europe's Caribbean is the Calabria region of southern Italy.
Puglia in the heel of Italy's boot is full of Greek, Ottoman, Byzantine, and ancient history.
Basilicata is southern Italy's secret destination for those looking for off the beaten track Italy vacation.
About Sicily
The largest island in the Mediterranean is Sicily.

Why is Italy one of the top vacation destinations?
Italy is a fun vacation destination for singles, families, honeymooners, adults, children, groups, and seniors because there is always something that appeals to travelers of all ages. And the Italian people welcome people of all ages.
Each of Italy's 20 regions is unique. Italy became a unified country around 1875. Each region has its own customs, culinary traditions, wine making, authentic foods, festivals and traditions. In short, Italy is a republic of at least 20 distinct cultures.  This makes an Italy getaway the perfect vacation.
A vacation to Italy may focus on just one region. There is that much to do and see in just about every Italian region.
For more information about traveling around Italy independently or with an escorted Italy tour group package you have come to the best website for escorted tours of Italy, independent vacations, cruises around Italy, and Italy travel information.
Italy FAQs – Know Before You Go
Below are links to the answers for frequently asked questions about Italy.  You'll find helpful Italy travel information so you may plan the best Italy vacation.