The Italy and Sicily tours package is a magnificent all inclusive journey through seven Italian regions, including the island of Sicily plus Calabria, Campania, Lazio, Tuscany, Umbria and Veneto.  The all-inclusive Italy and Sicily trip itinerary visits many of Italy's UNESCO sightseeing highlights.  This escorted tour of Italy's UNESCO Heritage sites travels round trip from Rome.  Tour Italy's and Sicily's UNESCO world heritage destinations including: Greek temples in Agrigento, the ancient Roman city Pompeii, Byzantine Mosaics in Ravenna and Monreale, Vatican City, Assisi, Florence, Naples, Rome, and Venice.  Along your journey you will see two Italian volcanoes Mt Etna and My Vesuvius.  Visit Lucca and Pisa in Tuscany. Tour Sicily's highlights including Palermo, Marsala, and Taormina. Drive along the Amalfi Coast to the Bay of Naples resort town Sorrento, and jet boat out to the splendid island of Capri. To book your Italy and Sicily vacation submit form below for the price of the all-inclusive Italy and Sicily tours with airfare from your city.
Highlights
Italy and Sicily Tour Itinerary Map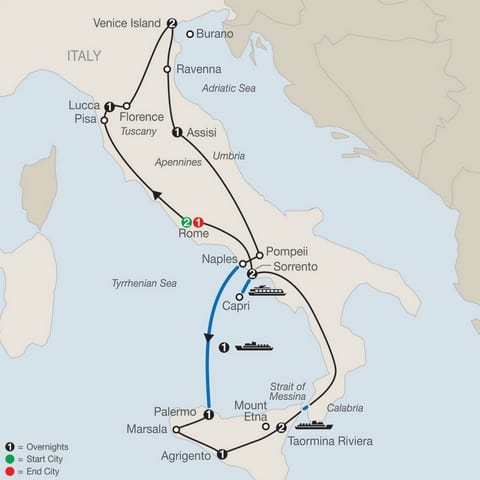 Italy and Sicily Tours Sightseeing Highlights
Breakfast daily and 5 dinners included
Byzantine mosaics in Ravenna and Monreale
St. Peter's Basilica, Rome
Vatican Museum, Vatican City
Sistine Chapel, Vatican City
Ancient Rome Colosseum, Rome
Academy of Fine Arts with Michelangelo's David in Florence
Venice guided walking tour with St Mark's Square
Ravenna, Basilica of St. Apollinaris in Classe
Basilica of St. Francis Assisi, Assisi
Naples Visit
Overnight ferry to Sicily.
Norman Cathedral, Monreale,
Marsala wine tasting
Agrigento guided Valley of Temples walking tour
Taormina Greek
Ferry and cross Strait of Messina to Calabria.
Sorrento and Capri
To review the Italy and Sicily tour daily itinerary click here.
Accommodations
4-Star Italy and Sicily Vacation Accommodations:
Grand Hotel Beverly Hills, Rome
Grand Hotel Guinigi, Lucca
Le Boulevard, Venice
Ora Hotels Cenacolo, Assisi
Excelsior Hilton, Palermo
Della Valle, Agrigento
Atahotel Naxos Beach Resort, Taormina
Conca Park, Sorrento
Holiday Inn Rome Aurelia, Rome
Video
Italy and Sicily Tours Itinerary:
The Italy and Sicily tour travel itinerary. For the price of the Italy and Sicily tour with airfare included from your city submit the form.
DAY 1 – Depart for your trip to Italy
Depart the Unites States for your flight to Rome, Italy where you'll begin your Italy and Sicily tour.
Day 2 – Arrive in Rome, Italy
Today arrive at Rome's Fiumicino airport. If you book your Italy and Sicily tour with airfare then we'll transfer you to the hotel. This evening you'll meet the tour director and have time to meet the other travelers who will also be enjoying the Italy vacation. This evening's agenda includes dinner with wine at an authentic Roman trattoria.
Dinner Included
DAY 3 – Rome Sightseeing
This morning begins with escorted tours of Rome's sightseeing highlights. First you'll visit the Vatican Museum, considered by many to be the most important museum in the world. You'll also visit the Sistine Chapel, St Peter's Square, and St Peter's Basilica. Here in Vatican city you'll see some of the greatest works of art including Michelangelo's Last Judgment fresco in the Sistine Chapel. Michelangelo's Pietà sculpture in St Peter's Basilica, Raphael's frescoes in the Vatican Museum and Bernini's various works of art. Then travel across Rome to the Ancient Roman Forum and Colosseum. After you'll have free time to stroll around Rome's cobblestone streets or join an optional tour of Baroque Rome's piazzas and fountains.
Breakfast Included
DAY 4 – Rome–Pisa–Lucca
Today you'll travel from Rome to the region of Tuscany. There you'll visit Pisa. The Leaning Tower is in the Field of Miracles, a beautiful square that is a favorite among photographers. After you'll visit the coastal town Lucca for an overnight stay. You'll have free time to take in this pleasant and historic Tuscan town. Enjoy a passeggiata, climb a medieval tower, and this evening enjoy a local Tuscan trattoria in Lucca or join the group for an option dinner at a Tuscan agriturismo.
Breakfast Included
DAY 5 – Lucca–Florence–Venice Island
Today you'll tour the Italian treasure Florence. A walking tour of Florence's center visit the Renaissance city's highlights including the Duomo, Giotto's Bell Tower, and Ghiberti's Gates of Paradise relief on the Baptistery's bronze doors, Signoria Square out the Uffizi Gallery. The day also includes a guided tour of Florence's Accademia Museum to see Michelangelo's David. This afternoon you'll continue across the Emilia Romagna and Apennine Mountains to Venice. From Piazzale Roma you'll travel by boat to your Venice hotel. This evening enjoy Venice on your own with free time. Or join an optional dinner featuring Venetian specialties.
Breakfast Included
DAY 6 – Venice Island
This morning your Venice sightseeing tours begin with a guided walking tour of Venice. You'll cross the Rialto Bridge, visit the Bovolo Spiral Staircase, St. Mark's Basilica, the piazza, the Doges' Palace, and the Bridge of Sighs. Today's Venice tour includes an authentic Venetian glassblowing demonstration. This afternoon you have free time in Venice. You may join optional excursions to Burano, famous for its bespoke lace-making artisans, followed by a gondola serenade.
Breakfast Included
DAY 7 – Venice Island–Ravenna–Assisi
This morning you'll travel from Venice to Ravenna. Located in the Emilia Romagna, it is a monument to Byzantine art, as reflected in its many UNESCO world heritage sites. You'll visit the 6th-century Byzantine mosaics in the Basilica of St. Apollinaris in Classe. In the afternoon, the tour continues on to the region of Umbria in central Italy.  There you'll stay overnight in the peaceful town of Assisi, a UNESCO site for its Franciscan history, contributions to art, history, and the humanities and architectural and creative genius. Here you'll visit the Basilica of St Francis. You'll have time to enjoy the many artistic masterpieces including those by paintings by Cimabue, Pietro Lorenzetti, Simone Martini and Giotto's life of St France frescoes that have made Assisi a fundamental reference point for the development of Italian and European art and architecture. This evening celebrate at an included authentic Umbrian dinner.
Breakfast and Dinner in Assisi Included
DAY 8 – Assisi–Pompeii–Naples
This morning you'll travel down the Apennine mountains from Umbria to Campania. There under the imposing Mt Vesuvius volcano you'll tour the ancient Roman city and UNESCO world heritage site Pompeii.  Learn about the ancient Roman lifestyle in 79AD when Rome was at the height of its power and influence. After you'll visit the oldest continuously inhabited city in the world and Italian UNESCO site, Naples. Since the ancient Greeks and Magna Grecia Naples has been a thriving city. Here enjoy the world-famous Naples coffee with an espresso and sfogliatella at the classic Grand Café Gambrinus. Then travel the Mediterranean as they have been doing for centuries with an overnight ferry cruise to Palermo, Sicily.
Breakfast Included
DAY 9 – Palermo
This morning you'll arrive in Palermo. Begin the day with a tour of the Piazza Bellini, Capo Market, the baroque Church of Immacolata, and the Palermo Duomo. Then you'll drive to Monreale. Here you'll visit the Norman Cathedral. Inside you'll see the famous byzantine mosaics.
Breakfast Included
DAY 10 – Palermo–Marsala–Agrigento
In Marsala, visit a salt mill, then enjoy a Marsala wine tasting in an authentic wine cellar. After you'll drive along Sicily's west coast to the UNESCO archaeological sites in Agrigento to visit the 2400 year old Greek Temples.
Breakfast and Dinner Included
DAY 11 – Agrigento–Taormina Riviera
This morning tour the spectacular Valley of the Temples with a local Sicily archaeology expert tour guide. On par with the best Greek Temples in Athens and Delphi, these gigantic architecturally sophisticated and pleasing structures have survived 2400 years of Meditarranean history. After you'll drive across Sicily to the seaside resort towns along the Taormina Riviera, another Italian UNESCO site. There you'll tour the ancient Greek Theater built 300 B.C., the second-largest of its kind in Sicily. Situated above Taormina with fabulous views of Mt Etna and the bay.
Breakfast Included
DAY 12 – At Leisure in Taormina Riviera
Today is at leisure in Taormina.  If you'd like to visit Mt Etna and its active volcanic crater join the optional tour.
Breakfast and Dinner Included
DAY 13 – Taormina Riviera–Sorrento
This morning you'll travel to Messina for a ferry crossing the Strait of Messina to land at the toe of the Italian boot in Calabria. This afternoon you'll arrive in the seaside resort town Sorrento, situated on the Bay of Naples with views of Mt Vesuvius, Capri, and Naples.
Breakfast Included
DAY 14 – Sorrento. Excursion to Capri
Today includes a tour of Capri.  You'll travel across the Bay of Naples by high speed jetfoil. On Capri stroll around and enjoy this ancient retreat for Roman emperors.  You'll have free time to indulge in the Made in Italy boutique shops on the piazzetta before returning to Sorrento.
Breakfast Included
DAY 15 – Sorrento–Rome
Return to Rome. This evening, enjoy a farewell dinner with wine at an authentic Roman evening.
Breakfast and Dinner Included
DAY 16 – Rome
Your escorted Italy vacation ends here in Rome with breakfast this morning.
Breakfast Included
For more vacations to Italy and Sicily click Sicily tours packages.
Submit form or call us today 800-227-1577 to book your Sicily and Italy Tour Package