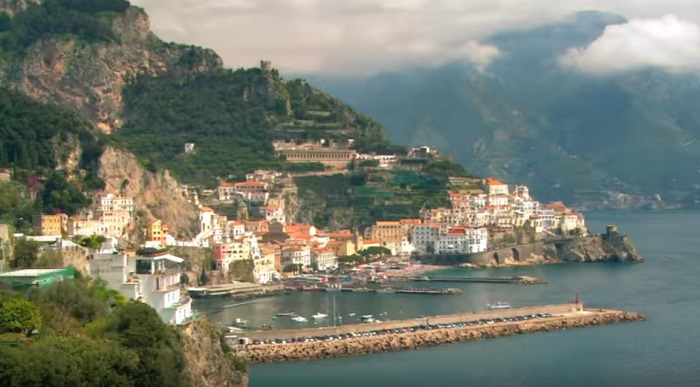 Indulge yourself cruising and touring Southern Italy's west Coast. This all-inclusive luxury Italy cruise tour travels from Rome to Malta. Along the way cruise along Italy's Amalfi Coast and around Sicily. The land tour includes one night hotel on Malta and two nights hotel in Rome. The seven night luxury cruise tour travels to Southern Italy. Ports of call include the Amalfi Coast, Sicily, and on the Aeolian Islands. Cruise down Italy's coast with like minded travelers. Enjoy stimulating conversations at the daily cocktail hours. Enjoy world class food and vistas. This exclusive itinerary includes just about all meals. Soft drinks and local wines are included with dinner. Travel south from Rome to Malta or travel north from Malta to Rome. To book your all-encompassing luxury Italy cruise tour submit form or call 800-227-1577.
Highlights
5-Star Luxury Italy Cruise Tour Vacation Sightseeing Highlights:
After-hours visit to the Vatican Museum & the Sistine Chapel
Authentic night of Sicilian entertainment with dinner and music
Tour the ruins of Herculaneum
Cruise by the volcanic island of Stromboli
Tour Sicily's great destinations Palermo, Siracusa, and Taormina
Practically all meals including 10 breakfasts, 7 lunches, and 9 dinners
For the luxury Italy cruise tour daily itinerary click here.

Accommodations
Luxury Italy Cruise Tour Day-by-Day Itinerary
Luxury Italy cruise tour includes 2 nights in Rome. Then cruise along Italy's west coast to the Amalfi Coast, Sicily, the Aeolian Islands, and Malta. One night in Malta is also included. This all-inclusive Italy cruise tour vacation package includes guided tours, meals, evening cocktails, and more.
DAY 1 – Rome
Arrive in Rome and transfer to your luxury hotel on the Via Veneto. Go out and stroll around this area where La Dolce Vita was filmed and today is full of top Italian designer boutiques. Then freshen up and enjoy an evening cocktail reception. An authentic Roman dinner will also be served after cocktail hour.
DAY 2 – Ancient Rome Tour and Private After Hours Vatican Tour
Today you will enjoy Rome's sightseeing highlights with a local Rome tour guide.  This morning you will tour the Ancient Roman Forum.  This area also includes the Colosseum. This afternoon after the ancient Rome tours you have free time to enjoy Rome.  We suggest visiting a local trattoria for an authentic Roman lunch. Then stroll the historic center, enjoying the famous piazzas of Rome.  Or arrange a tour of your specific interest. We can arrange visits to the Borghese Museum, Capitoline Museums, or another specific point of interest you would like to visit. Then freshen up for this evening's after-hours guided tour of the Vatican Museum. You'll be able to explore what is the finest collection of art in the world without the normal crowds. Enter the Sistine Chapel with space to meditate while letting your eyes feast on the Renaissance works of art. Walk through the halls of the museum without being mobbed. This is a once-in-a-lifetime experience in Rome that you will never forget.
DAY 3 – Guided Tour of Herculaneum, Naples Tour, Neapolitan Lunch, Dinner on Luxury Yacht
Today your luxury Italy cruise tour departs Rome for the Southern Italian region of Campania. Famous for Naples, the Amalfi Coast and the ancient archaeology sites Pompeii and Herculaneum.  While everyone visits the ancient urban center of Pompeii, we believe the better ruins are found in Herculaneum. Herculaneum was likely where the wealthier ancient Romans lived while to less affluent lived in Pompeii. Your local tour guide will be an ancient art and history expert. After the Herculaneum tour you will visit the vibrant city of Naples. Naples and the Campania region are known for their fine cuisine. Mt Vesuvius' various eruptions have left fertile soil that makes for delicious fruits, vegetables, and wines.  You'll taste all the Campania specialties including the Pizza Margherita at an authentic Neapolitan lunch. After you'll tour Naples sightseeing highlights and then go to the port to embark on your 7 night Southern Italy luxury cruise.
DAY 4 – Cruise along the Amalfi Coast
Today the southern Italy cruise visits Amalfi. This famous town for which the picturesque coast is named was one of the original maritime republics. After a tour and stroll of Amalfi you'll drive up the mountains to the spectacular town of Ravello. Set high up above the coast on cliffs, the views up here are outrageous! Artists, authors, and poets have been coming to this town for centuries. Popes too! And you will tour the former Papal residence Villa Rufolo. Up here above the Amalfi Coast you will be treated to another authentic lunch of Campania specialties. After lunch you'll have more leisure time to enjoy Ravello.
DAY 5 – Cruising from the Amalfi Coast to the Aeolian Islands
Today your luxury yacht sails around the Aeolian Islands. You will visit the largest of the island's ports Lipari.  There you will tour the 17th-century cathedral and 16th-century castle. After Lipari the yacht sets sail to Sicily.  Along the way you will cruise by Stromboli.  This nearly perfectly formed volcanic island is typically active. If its fire is on then you'll be treated to a red hot evening show.
DAY 6 – Segesta and Erice Sicily
Today meet the ancient Greek Gods in Segesta.  Dating back to 426 BC this Doric Temple is among the best preserved ancient Greek Temples in the world. Your Sicily tour then continues to Erice. This is where the Roman goddess Venus lived. You will also visit the Norman Castello di Venere. Today you will enjoy an authentic Sicilian lunch. Then travel to Trapani where the luxury cruise continues.
DAY 7 – Palermo
Today you'll continue the Sicily tour in Palermo.  Sicily is full of beautiful architecture and mixed cultural influences. You'll see the Palermo Cathedral, which is an excellent example of the mixed architectural styles. You'll also visit the Norman Palace, and the embellished Pretoria Fountain.  This evening you'll return to the yacht to cruise around Sicily to Taormina.
DAY 8 – Taormina
Taormina may be just be one of the most beautiful resort towns in the world.  For thousands of years people have been coming here to enjoy the beach. The charming town set up in the hills is full of gardens and grand views of Mt Etna, and the turquoise sea below. In Taormina you will tour the Greek Theater. Then you'll have time to stroll around the town. Enjoy an espresso or gelato before returning to your yacht for the cruise down Sicily's coast to the most beautiful of all ancient Greek cities Siracusa.
DAY 9 – Siracusa, Sicily
Considered the most beautiful of all ancient Greek cities, today you'll visit Siracusa. There you will visit the Neapolis Archaeology Park, highlighted by a 15,000-seat amphitheater. 3000 years ago the Greeks and then Romans staged their tragedy, comedy, and history dramas. Here you may also visit another fabulously preserved Doric Temple of Apollo. After a day in Siracusa return to your yacht for your sail to Malta.
Day 10 – Malta
You luxury Italy cruise arrives in Malta for a final day of sightseeing. A guided tour of Valetta includes visiting Mdina. This is an authentic medieval walled city on Malta. The tour continues to the Cathedral of St. John. This is one of the world's finest examples of Baroque architecture. This evening enjoy a final cocktail party and dinner.
DAY 11 – Ciao Luxury Italy Cruise Tour
Today your luxury Italy cruise tour concludes in Malta. Having visited the sightseeing highlights in Rome, along the Amalfi Coast, in Sicily and Malta, you'll depart with many colorful memories of this rich cultural region. The transfer to Malta airport is included. If you would like to continue your Italy vacation let us know how we may help.
For more Sicily vacation options click all-inclusive Sicily Tours Packages.
To book your luxury Italy cruise tour call 800-227-1577 or submit the form