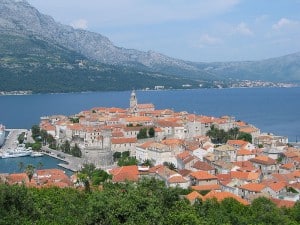 Popular Rome cruises around Italy visit ports of call along Italy's famed Amalfi Coast, the Italian Mediterranean island Sicily and the Aeolian Islands, Malta, and ports along the Dalmatian Coast – Dalmatia.
Amalfi Coast cruises ports of call along Italy's west coast include the original Maritime Republic of Amalfi. The Ancient Roman Port Gaeta, Positano, Sorrento, and Capri are Southern Italy ports of call typically included with an Amalfi Coast cruise.
With Mt Vesuvius towering over the Bay of Naples enjoy the views as you cruise along the Amalfi Coast to Sorrento, Positano, and Capri. In Sicily the ancient Greek ports Taormina, Siracusa, Messina and Trapani are Mediterranean cruise highlights. The Aeolian islands include Stromboli and Lipari, volcanic paradises set in the Tyrrhenian Sea.
The Dalmatian Coast ports of call Dubrovnik, Hvar, Karcula, Koper, Kotor, Pula, Rovinj, Sibenik, and Split are among the popular Adriatic ports of call.  In Italy along the Adriatic Ravenna, Bari, Otranto, and Venice are full of Etruscan, Roman, Byzantine, and Renaissance history.
These cruise itineraries are typically for small ships. The small ships can reach these smaller ports. Small ships means luxury Italian cruising. Cruise to the marvelous ports along Italy's coasts. For the best deal on Amalfi Coast cruises around Italy to Sicily, the Dalmatian Coast, and Venice click the links below for more information or call us 800.227.1577.
Cruises Around Italy to Amalfi Coast, Sicily, Dalmatian Coast, and Venice
Below are the best Italy cruises to the Amalfi Coast, Sicily, and the Dalmatian Coast. Click links for more information and to book your Italy cruise online.
Enjoy a small ship that goes to ports only small ships can visit. The itinerary includes Mljet, Korcula, Pucisca, Omis, Split, Hvar, Trstenik, and Dubrovnik. The Dalmatian Coast cruise tour includes a guided tour of Korcula, a late stay in Pucisca where you can have dinner on shore, a tour of Omis, a walking tour of Split and late night there where you may enjoy dinner on shore, a late night in Hvar so you may enjoy dinner on shore, and final night in Dubrovnik.
10-Day Super Luxury Dalmatian Coast Cruise
This Luxury cruise sails along the Dalmatian Coast from Venice.  Visit the beautiful Adiatic ports in Croatia and Montenegro. The trip includes passage through beautiful scenery where ancient forts and castles dot the landscape. The itinerary includes 2 nights in Venice and a cruise down the Dalmatian Coast. The all-inclusive package includes shore excursions in Dubrovnik, Kotor, Sibenik and Split.
13-Day Dubrovnik to Venice Dalmatian Coast Cruise
Tour the Dalmatian Coast from Dubrovnik to Venice on board a small ship. The small ship allows ports of call that bigger ships cannot enter. The Dalmatian Coast cruise itinerary includes Dubrovnik, Mljet, Korcula, Hvar, Bol, Split, Trogir, Sibenik, Sali, and Zadar. There are also two nights in Venice. For more information click here.
Join a small group trip from Dubrovnik up the Dalmatian Coast to Venice. This Dalmatian Coast tour is unique as all hotels are on land. The small group travels among the Dalmatian Coast islands by ferry. The Dalmatian Coast tour itinerary includes overnights in Dubrovnik, Korcula, Hvar, Split, Opatija, Ljubljana, and Venice. For more information click here.