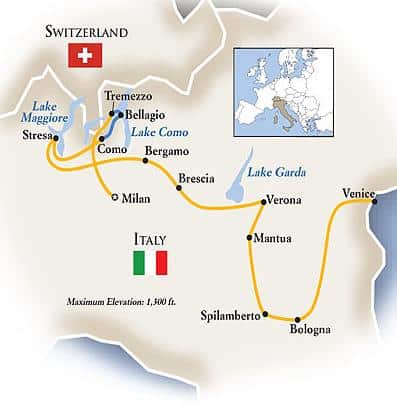 You've never experienced a northern Italy Italian Lakes luxury tour vacation like this 11-day Northern Italy and Italian Lakes luxury tour. Begin your northern Italy luxury tour in fashionable Milan in Northern Italy's Lombardy region. Discover the legacy that da Vinci and Michelangelo left behind. Take in the beauty of the Italian lakes as you visit Isola Bella on Lake Maggiore and Bellagio on Lake Como. Think of Romeo and Juliet as you tour charming Verona. Visit what many consider one of Northern Italy's most beautiful towns, Mantua. Attend a wine tasting at an agriturismo and a balsamic vinegar tasting in Spilamberto. Walk on the streets of Bologna, learning the secrets of its cuisine during your cooking class with a master Bolognese chef followed by a scrumptious dinner. Cap off the perfect northern Italy and Italian lakes luxury tour in Venice, truly the magical city of dreams, where you'll enjoy a Venice sightseeing exclusive – an after-hours guided visit to St. Mark's Basilica to view its treasures without the daytime crowds. For more information and to book your Northern Italy and Italian lakes luxury tour submit the form or call us today 800-227-1577.
Highlights
Northern Italy Italian Lakes Luxury Tour Highlights:
A picture-postcard setting awaits along every turn, dip and bend of winding Yellow Roads through the beautiful Italian Lakes region – tranquility perfected
After-hours guided visit to St. Mark's Basilica in Venice, without the daytime crowds; explore the treasures of the "Greek Cross" floor plan unhurried
A cooking demonstration in Bologna, the food capital of Italy, boasting an epicurean delight for every palate; learn the secrets of its cuisine from a master chef and enjoy a memorable dinner
Discover the centuries-old art of producing balsamic vinegar, a northern Italy specialty, on an extraordinary tour that includes a tasting
A visit to an agriturismo for a wine tasting and lunch in the beautiful Franciacorta region
Airport transfers upon arrival and departure as noted
20 meals (10 breakfasts, 4 lunches & 6 dinners), service charges, gratuities to local guides, admission fees, taxes and porterage.
Accommodations
Northern Italy Italian Lakes Luxury Tour 5-Star Accommodations
2 Nights Milan – Grand Hotel Des Iles de Milan
2 Nights Lake Maggiore – Grand Hotel Des Iles Borromees
2 Nights Verona – Due Torri Hotel
2 Nights Bologna – Grand Hotel Majestic
2 Nights Venice – The Gritti Palace
Northern Italy Italian Lakes Luxury Tour Itinerary
Day 1 Milan
Your northern Italy luxury tour to Milan, Venice,Bologna and the Italian Lakes begins in Milan at 6:00 PM at Grand Hotel et de Milan. A transfer is included from Milan's Malpensa Airport to Grand Hotel et de Milan. Please join us to meet your Italy luxury tour director and your fellow travelers at a welcome cocktail reception followed by dinner this evening. Dinner is included celebrating the start of your Northern Italy luxury tour.
Day 2 Milan Tour
This morning will be a special treat for aficionados of religious art masterpieces when we visit the Convent of Santa Maria delle Grazie to take in Leonardo da Vinci's mural The Last Supper, which he painted on the refectory wall at the request of his patron, Ludovico Sforza, Duke of Milan. With dimensions of 15 by 29 feet, this beloved mural covers the entire large wall. Continue on to magnificent Castello Sforzesco which houses Michelangelo's last unfinished masterwork, the Rondanini Pieta. Later, admire the Duomo, the great Cathedral of Milan, a striking example of Gothic architecture, and the impressive Galleria Vittorio Emanuele. After a short walking tour and lunch on your own, view works by Raphael, Bellini and other great Italian masters at the Pinacoteca di Brera; the rest of the day is free to explore what interests you most. Breakfast is included.
Milan Hotel Nights 1 – 2 : Grand Hotel et de Milan – Milan, Italy
The intimate, luxurious Grand Hotel et de Milan enjoys one of the very best locations in the city just steps away from the famous La Scala Theater. Each of the gracious guest rooms is individually designed and decorated and features a marble bathroom, air conditioning, satellite and cable TV, hair dryer and in-room safe. The bright and airy Fitness Center invites you work out the kinks after a busy day of sightseeing. The Don Carlos Restaurant is considered to be one of Milan's best and Gerry's Bar is a pleasant place for afternoon tea or a cocktail. This is the perfect hotel for an Italy luxury tour in Milan.
Day 3 Italian Lake Como and Bellagio
It's said to be Italy's most beautiful lake, and you'll understand why it entrances celebrities, aristocrats and jetsetters when you see Lake Como for yourself today. In Tremezzo, discover Villa Carlotta, known for its lovely setting and splendid 17th-century gardens decorated with sculptures, stairways and fountains. A private boat ride across the lake to Bellagio reveals the grand villas of the rich and famous. After lunch on your own, board another private boat for a cruise to Como en route to your Belle Époque hotel on Lake Maggiore. Breakfast and dinner is included with the Italy luxury tour.
Day 4: Italian Lakes Tour
Your northern Italy vacation continues as you travel by boat to Isola Bella on Lake Maggiore and the exquisite Borromeo Palace on the tiny, private island. Count Vataliano Borromeo began the construction of this opulent Baroque palace and its splendid gardens in 1632. A tour of the ornate family home showcases priceless works of art, tapestries and furniture in an elegant and sumptuous setting. Return to lovely Stresa, where the afternoon and evening are free to enjoy as you please. Breakfast is included today.
Lake Maggiore Hotel Nights 3 – 4 : Grand Hotel Des Iles Borromees – Lake Maggiore, Italy
The breathtaking setting of the five-star Grand Hotel des Iles Borromées, in a park facing Lake Maggiore with views of the Iles des Borromées, is as grand as the hotel itself. Built in 1861 and carefully renovated in 1991, its original structure is completely unaltered, preserving its distinctive Belle Époque style in an atmosphere befitting an exclusive private mansion. Lavish guest rooms indulge with rich colors and furnishings and Italian marble bathrooms with whirlpool bathtub, and amenities including TV with extensive satellite channels. During leisure time, take advantage of the hotel's two heated outdoor swimming pools, tennis court and the services offered by the SPA club. An elegant dining experience with fine regional cuisine and impeccable service awaits at the formal Borromeo Restaurant or on the outdoor terrace during summer months. In summer, the Pool's Snack Bar offers light snacks surrounded by the beautiful park. Enjoy the ambiance of the Piano Bar in the lovely lobby as you sip your favorite beverage and savor your Italy luxury tour Italian lakes experience.
Day 5: Italy Luxury Tour from Italian Lakes to Verona
Today's travels take you across lush rural landscapes to ancient Bergamo, where you'll explore its walled medieval center – straight out of a storybook illustration – with a local guide; visit the Piazza Vecchia, the 12th-century Church of Santa Maria Maggiore, and the Cappella Colleoni. After a wine tasting and tasty lunch at an agriturismo in the Franciacorta region, your northern Italy vacation continues to Verona, land of Romeo and Juliet, where your hotel is not far from the famous balcony that inspired Shakespeare's timeless tragedy. Breakfast, lunch and dinner included
Day 6: Verona
Verona is probably best known as the home of Shakespeare's tragic lovers, Romeo and Juliet and of The Two Gentlemen of Verona, Valentine and Proteus. But, Verona is so much more. In honor of its many historical buildings, Verona has been named a UNESCO World Heritage Site. The city is famous for its Roman amphitheatre, the third largest after the Colosseum in Rome and still used for operas and other cultural entertainment, and other buildings that have survived since Roman times as well as for its outstanding wine and cuisine. A walking tour this morning reveals the many charms of the city; the afternoon and evening are free to continue your explorations on your own. Breakfast is included.
Verona Hotel Nights 5 – 6 : Due Torri Hotel – Verona, Italy
The elegant Due Torri Hotel enjoys an excellent location in the historic heart of Verona, just a stone's throw from Juliet's balcony. The lovely classic double rooms, with décor inspired by the Bidermeier or Impero styles, offer all the amenities that today's sophisticated travelers expect, such as TV, minibar, and in-room safe, while the red-marble bathrooms have both tubs and showers. Enjoy genuine local and national cuisine in the Brunello Restaurant, or a nightcap in the gracious Brunello Lounge overlooking the sumptuous lobby. In the past, Mozart, Goethe and Garibaldi have been guests here and today the hotel is a favorite with the famous opera singers who perform at the renowned Arena during the opera season. This is the perfect Verona hotel for our Italy luxury tour.
Day 7: Mantua Tour and Bologna
Your Italy luxury tour journeys this morning to Mantua, birthplace of the poet Virgil, and once the site of one of the greatest Renaissance courts in Europe. Tour the impressive Ducal Palace, the former stronghold of the powerful Gonzaga family, and admire grand rooms and stunning frescoes dating from the 13th through the 18th centuries. Visit the 14th-century fortress of Castello San Giorgio to view its art collection. In Spilamberto, a visit to a local museum reveals how authentic balsamic vinegar is produced, complete with a tasting that will be an interesting memory of your northern Italy vacation. This afternoon your Italy luxury tour arrives in Bologna for a two-night stay at the Grand Hotel Majestic – gia Baglioni. Breakfast, lunch and dinner is included today.
Day 8: Bologna
Surrounded by hills, the dusky red buildings, marbled-floored ancient porticoes and wide piazzas contribute to the distinctly Renaissance feel in the center of Bologna, a bastion of food, fashion and culture. Home of the world's oldest university, the Alma Mater Studiorum, founded in 1088, notable scholars such as Dante, Boccaccio and Petraca once walked its streets. A walking tour this morning reveals sights that they may well have seen centuries ago. After time to explore and lunch on your own, learn the secrets of Bologna's cuisine in a cooking class from a master chef prior to an unforgettable dinner where you'll savor the delicious results of what you've learned! Breakfast and dinner included.
Bologna Hotel Nights 7 – 8 : Grand Hotel Majestic – gia Baglioni – Bologna, Italy
Located in the heart of the city near the Piazza Maggiore, Due Torri and the National Art Gallery, the Grand Hotel Majestic – gia Baglioni is a wonderful place from which to explore all that Bologna has to offer. You can count on a warm welcome at this five-star hotel that is known for its elegance, tradition and service. Comfortable guest rooms offer air-conditioning, TV with cable and satellite channels, hairdryer, mini bar, in-room safe and Internet access. Choose to dine at the Majestic Lounge Café or enjoy an innovative menu featuring the authentic cuisine of the region while surrounded by the 16th-century Carracci frescoes of the I Carracci Restaurant.
Day 9: Venice Guided Tour
Today your Italy luxury tour travels on to Venice today, one of the world's most enchanting cities. Guided Venice sightseeing includes the famous Piazza San Marco, impressive St. Mark's Basilica and the Doges' Palace, official residence of Venetian rulers in the Middle Ages, where you'll learn how the "bridge of sighs" got its name. Your home in Venice is the magnificent Hotel Gritti Palace on the Grand Canal; it was built in 1525 as the palatial residence of the then-Doge Andrea Gritti. Tonight an ItalianTourism.us Venice Italy luxury tour exclusive awaits – an after-hours guided visit to celebrated St. Mark's Basilica in the heart of Venice (subject to availability and day of the tour may vary), during which you can explore the iconic Basilica without the usual crowds! Breakfast and lunch included.
Day 10: Venice at pleasure
Awaken in intriguing Venice, one of the world's most beloved cities, today and indulge in all things Venetian just as you choose. You might begin your day enjoying a coffee in Piazza San Marco, referred to by Alfred de Musset as "the drawing room of Europe." Here in the city where streets are paved with water, the sound of human voices replaces the traffic noise so common in the other great cities of Europe as pedestrians (and pigeons) flock to this central gathering place for Venetians. Perhaps you'll choose to see the magnificent view of the city from the top of St. Mark's bell tower, stroll over to the Rialto Bridge, take in some of the city's excellent museums or shop for distinctive Venetian souvenirs such as the traditional Carnival masks and colorful Venetian glass. Or, just follow your nose and see where the tiny streets might take you. Then, sit back and relax for an included, iconic Venetian experience, as a gondolier propels your gondola through the canals, complete with a serenade; it's a ride that you'll long remember! This evening, join us as we celebrate the end of a splendid northern Italy luxury tour with our farewell cocktail reception and dinner. Breakfast and dinner is included.
Venice Hotel Nights 9 – 10 : Hotel Gritti Palace – Venice, Italy
Built on the Grand Canal in 1525 as the regal residence of the Doge of Venice, the glorious Hotel Gritti Place is legendary among Venice hotels. Long a favorite of European royalty and other illustrious visitors, now this sumptuously historic hotel waits to welcome you. Each guest room is unique but all are adorned with traditional Venetian décor and offer marble bathrooms with deluxe bath amenities, in-room movies, high-speed Internet access, air-conditioning, bathrobes and slippers, hairdryer, TV with remote control and mini bar. During leisure time take the private boat service to the beach facilities, swimming pools, tennis and golf at sister hotels The Westin Excelsior and the Hotel Des Bains. Enjoy fine cuisine, created and served with elegance, at the Club del Doge restaurant offering wonderful Venetian vistas; after a busy day, drink in great views of the Grand Canal as you sip something cool at the Bar Longhi.
Day 11: Northern Italy Italian Lakes Luxury tour ends
Breakfast is included then we arrange transportation to the airport: Venice's Marco Polo Airport is approximately 5 miles (8 kilometers) away by water taxi; travel time is about 45 minutes. Transfers to the airport or Santa Lucia Train Station are included.
Extend Your Italian Lakes luxury tour with a Florence and Rome extension
Many travelers prefer arriving at their destination a day before the escorted Italian Lakes luxury tour begins, or often extend their Italian Lakes luxury tour at the end of their trip. Let ItalianTourism.us know your plans and we'll help you with trip arrangements before or after your Italian Lakes luxury tour.
Click here for tour highlights.
Click Northern Italy tours to view all Italy vacations to Northern Italy.
To book your Northern Italy and Italian Lakes luxury tour submit form or call 800-227-1577