Sail down the Adriatic Sea from Venice to the super-exclusive Dalmatian Coast with this all-inclusive luxury cruise tour. The all-inclusive Dalmatian Coast luxury cruise tour itinerary includes land tours, gourmet meals, and high style luxury accommodations. This Dalmatian coast luxury cruise tour vacation package brings history to you in modern luxury and style. You'll love visiting Croatia's famed Dalmatian Coast. Explore medieval castles, ancient forts, and walled cities along the Adriatic and Dalmatian Coast. Journey inside history from the ancient Greeks to the Venetian Republic to today the Jetsetter's paradise. Tour UNESCO World Heritage Sites on visits to Dubrovnik, Venice, Hvar, Kotor, Sibenik's Cathedral, and Diocletian's Palace in Split. To book this Dalmatian Coast luxury cruise and tout submit the form or call 800-227-1577.
Submit form or call 800-227-1577 to book your Dalmatian Coast Luxury Cruise Tour
---
Luxury Dalmatian Coast Cruise Daily Itinerary
From the Ancient Greeks and Romans to the Byzantines, Renaissance, and Baroque epochs in history this trip down the Dalmatian Coast has all the best in luxury cruise tour. Enjoy a wine tasting and a Moreska cultural performance. Spend two nights in Venice. The Venetians loved the Dalmatian Coast. Find out why by exploring the rich treasures of Venice and the Dalmatian Coast. Submit form to book or for more information about this all inclusive Dalmatian Coast luxury cruise tour.
Day 1 Arrive in Venice for your Dalmatian Coast Luxury Cruise
Arrive in Venice and transfer to the luxury ship Le Lyrial. The captain will welcome all guests at 5PM followed by a cocktail party on deck. Mingle with other like minded travelers as the ship departs Venice to sail down the Adriatic Sea toward the Dalmatian Coast. The first port of call is the Croatian island Korcula.
Meals: Dinner
Day 2 Korcula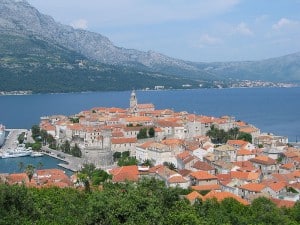 Today you'll visit Korcula, This medieval walled city is the home town of the great explorer and trader Marco Polo.
This morning chose among four shore excursions:
Guided walking tour that highlights the variety of architectural styles see in Korcula, including the Rector's Palace, the City Museum, the Museum of Icons in the church, the Gothic-Renaissance Cathedral of St. Marco, and the House of Marco Polo (viewed from the outside);
"A Taste of Korcula," where you'll visit a family estate to sample the hospitality and lifestyle of local residents;
Kayaking among some of the 20 small islands of the Korcula archipelago; or
Hike along scenic pathways through fields and country lanes on Korcula.
In the late afternoon everyone is treated to a firsthand look at the island's folkloric traditions with a private Moreska dance presentation of a Moroccan folk story, performed only in this town. Enjoy some free time into this evening to explore on your own, before returning to the ship for the captain's welcome reception and dinner. The ship departs for Sibenik tonight.
Meals: Breakfast, Lunch, Dinner
Day 3 Sibenik & Split
Le Lyrial arrives in Sibenik, Croatia, where you'll have an opportunity to choose morning and afternoon sightseeing excursions.
Morning choices include:
Walking tour of Sibenik and a visit to a local Dalmatian village;
Visits to the medieval town of Trogir (a UNESCO World Heritage Site) and a local Dalmatian village; or
Scenic coastal drive along the Adriatic that takes you to Krka National Park for w


alks and swimming – the Krka River, waterfalls, lush canyons and a multitude of birds makes it special.
This afternoon the tour continues to Split. For afternoon exploring choices in Croatia's second-largest city include:
"Historic Split Walking Tour" showcasing the remains of the Roman Emperor Diocletian's Palace, built between the 3rd and 4th centuries, whose well-preserved ruins hous


e shops, homes, and one of the world's oldest cathedrals within their ancient walls;

"The Best of Split and a Cetina Rivercruise" featuring the highlights of Split on a guided walk, including Diocletian's Palace, and a riverboat cruise on one of Croatia's most scenic rivers;
Guided bicycle tour of Split plus a visit to Diocletian's Palace;
"Taste of Split" countryside tour; or
Sea kayaking excursion.
Board Le Lyrial late afternoon for cocktails and dinner; sail on to Dubrovnik this evening.
Meals: Breakfast, Lunch, Dinner
Day 4   Dubrovnik
Cruise along the Dalmatian Coast to the next port of call – the great walled city of Dubrovnik, the "Pearl of the Adriatic" – where the day begins with a private lecture aboard the ship by a former officer in the Croatian Army, who will speak about the country's formative war in the 1990s. You can experience Dubrovnik three ways this morning:
A cable car transports you upward for a panoramic view of Dubrovnik followed by a walking tour with a local guide of Dubrovnik's magnificent Old Town declared a UNESCO World Heritage Site due to its wealth of Gothic, Renaissance, and Baroque churches, monasteries, palaces and fountains, not to mention its splendid medieval ramparts;
Take a guided walking tour of the City Walls of Dubrovnik, including a climb to the top of the walls and a visit to the Maritime Museum; or
Do some wine tasting at a family-owned winery, take a scenic drive along the Croatian Riviera, and enjoy a guided walking tour of Dubrovnik's landmark sights.
The afternoon is yours to spend as you please in Dubrovnik; after dinner this evening, Le Lyrial sets sail for Montenegro.
Meals: Breakfast, Lunch, Dinner
Day 5  Kotor, Montenegro
Head to the observation deck as Le Lyrial sails into Montenegro's Bay of Kotor, Europe's southernmost fjord – the view is inspiring and unforgettable. The bay and the city of Kotor are UNESCO World Heritage Sites in recognition of their natural and cultural uniqueness.
Morning shore excursion choices include the following choices::
Guided walking tour of Kotor, a visit to the small village of Perast and a private boat trip on the Bay of Kotor including a visit to Our Lady of the Rocks Church;
Journey to Lovcen Mountain for culinary tasting and a guided walking tour in Kotor;
Boat trip across the stunning Boka Bay to the seaside town of Prcnj, whose 17th and 18th prosperity is evident in its architecture to this day;
Drive to an olive grove and olive oil mill on the the Lustica Peninsula for a look at Montenegro's traditional methods of olive oil production;
Gastronomic experience on a visit to a private home and a local market in Kotor; or
Rib boat adventure to the renowned Blue Cave and other destinations along the Bay of Kotor.
Everyone spends the afternoon as they please in Kotor, returning to the ship for an evening sail for Hvar.
Meals: Breakfast, Lunch, Dinner
Day 6 Hvar
Experience the enchanting island of Hvar, a well-known playground for international celebrities and royalty. Sightseeing here offers a number of choices:
Travel to Stari Grad, dating back thousands of years, for a walking tour that includes a visit to the Dominican Monastery with its rich library with priceless books and paintings – followed by a scenic drive to Vrisnik for a special wine tasting;
Visit the well-known beaches of Hvar on a cruise to the Pakleni Islands archipelago, a maze of several small islands that offer perfect bays for swimming and snorkeling;
Hike through villages where you will see the beauty of the locals' traditional architecture and way of living – and have lunch in a small tavern in the picturesque, hidden village of Malo Grablje;
Half-day off-road excursion offering a unique perspective of Hvar and villages like Velo Grablje and Roskarnica; or
Sea kayaking excursion off the coast of Hvar.
Everyone returns to Hvar midday; spend the afternoon in Hvar Town, exploring as you please amidst its intricately carved Venetian architecture.
This evening, as you cruise to Pula, you can capture the scenic beauty of the coast from the outside decks of Le Lyrial – and enjoy a private cocktail party, prior to the Captain's farewell reception, followed by dinner at leisure.
Meals: Breakfast, Lunch, Dinner
Day 7 Pula & Rovinj
Discoveries along the Istrian Peninsula begin when you dock in Pula, once a Roman town called Polai, where you can choose between a walking tour to visit Pula's 1st-century Roman amphitheatre (arena) – considered the best-preserved in the world – along with other well-preserved ancient Roman structures; or a tour visiting the Pula amphitheatre and the nearby village of Vodnjan for olive oil tasting at an award-winning family-owned establishment.
This afternoon the ship arrives in one of the most picturesque and romantic little towns in the world, Rovinj. Sightseeing opportunities here include a walking tour of Rovinj; an excursion to the town of Porec, a UNESCO World Heritage Site, with a sparkling wine tasting at a renowned countryside wine cellar; a visit to the medieval town of Labin for a visit to the Labin National Museum and an artists workshop where local artisans display their craft; or an Istrian Truffle experience in the village of Livade, with a visit to the ancient hilltop town of Motovun.
Back aboard ship, join us for farewell cocktails and dinner as Le Lyrial returns to Venice.
Meals: Breakfast, Lunch, Dinner
Day 8 Venice
Sail back to remarkable Venice today, where you'll disembark Le Lyrial and take a walking tour of Venice's San Rocco district. Then board a boat for an excursion among the picturesque islands of the Venetian Lagoon – part of the region's UNESCO World Heritage Site designation, along with the city of Venice – and stop for a visit to Murano, famous for glass production since medieval times. See how artisans still craft their signature glass in the traditional way at a glassblowing demonstration at a Murano studio. Return to Venice for an evening spent as you please.
Meals: Breakfast
Day 9  Venice
You'll get a taste of how opulent life was for the ruling elite of medieval Venice at the richly decorated Doge's Palace; it served as the official residence of the Venetian Republic's rulers through the Renaissance and beyond. There's nothing quite like getting to know a new destination through the eyes – and the experiences – of a local expert… and you'll do just that in Venice today when you join a resident guide in this city of canals for a tour of Piazza San Marco (St. Mark's Square), the center of Venetian life and home to dramatic St. Mark's Basilica. After some first-class people-watching (not to mention pigeon-watching) in one of the most recognizable public squares on Earth, go inside the Basilica, a magnificent blend of Eastern and Western influences, for a close-up look at its gleaming mosaics and other priceless treasures including statues, icons and its famous horses (day of visit may vary).
Following an afternoon spent as you wish in Venice, please join us this evening for a farewell reception and dinner at your hotel.
Meals: Breakfast & Dinner
Day 10  Tour Ends
For more information or to book your Dalamtian coast luxury cruise tour
submit form or call 800-227-1577