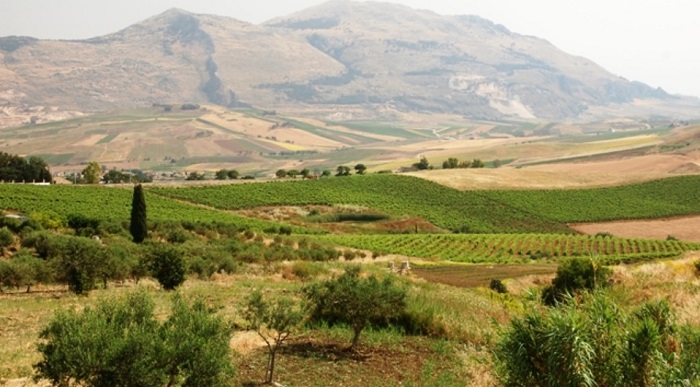 I started the two and a half hour bus ride across Sicily's interior from Catania to Palermo with the intent of reading.  But once we were out of the Palermo, I put the book down and did not read another word because the beauty of Sicily's countryside captured my attention until we spilled out into a sweeping panorama of the sea on the outskirts of Palermo.
Green rolling hills and mountains, punctuated by massive gray rock formations comprise Sicily's interior. Then there are very few trees which reveals the the natural sculpture of the land.
Onto that natural rolling canvas from the hilltops to the highway in the valley is painted a patchwork quilt of informal, geometric designs created by patches of small farm fields.
Each patch has its own color and texture of closely-spaced or widely-spaced parallel rows of low vegetables, orchards, and groves.  Moreover each patch has its own orientation to its neighboring patch … sometimes skewed, sometimes aligned.
Every curve in the road reveals a new and beautiful quilt … for hours. It is in stark contrast to the vast, flat, industrial farms of the American "heartland".
It makes one wonder whether, over the centuries, generations of Sicily's interior farming families incorporated artistic expression into their functional designs.
About Sicily
Sicily is the largest island in the Mediterranean. A trip to Sicily will bring you up close with the history of the Mediterranean civilizations that shaped the Western world. The mixing of various Mediterranean cultures is the essence of the Sicilian and southern Italian cultures. Therefore a walk through Sicily is a journey through Mesopotamian, Egyptian, Canaanite, Phoenician, Hebrew, Carthaginian, Greek, Roman, Byzantine, Ottoman, Christian and Islamic cultures.
Sicily Vacations
For a comprehensive listing of the Sicily vacation packages available click ItalianTourism.us Sicily tour packages.
For a Sicily tour that will take you on a similar trip from Catania to Palermo traveling across Sicily's interior and along its coast including Taormina and Agrigento check out the Best of Sicily Tour.