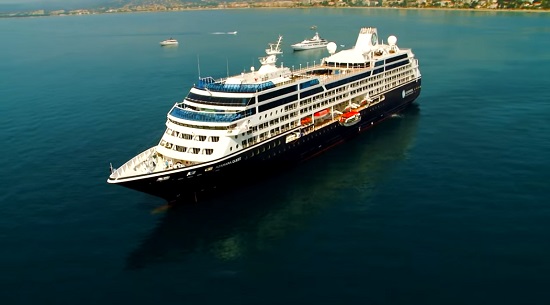 Azamara cruises from Rome and Venice are among the most popular luxury Mediterranean cruises. Famous for its country club casual atmosphere, extended time in ports of call including overnights, and fine service Azamara cruises from Rome and Venice are a trip of a lifetime. Click the tabs below to toggle between Azamara Cruises from Rome and Venice. ItalianTourism.us guarantees the lowest price and best deals on all Azamara cruises from Italy. Book online and contact ItalianTourism.us for special non-published cruise airfares to Italy not available to the general public. ItalianTourism.us also offers tours of Italy packages with cruises. Contact ItalianTourism.us with more details about your Mediterranean cruise plans and we'll help you plan and book a lovely and relaxing Mediterranean cruise around Italy aboard Azamara.
Contact ItalianTourism.us Italy cruise expert for Azamara double upgrade offer:
• Balcony views from their Club Veranda Stateroom — for the price of a Club Interior Stateroom
• Extra perks to recharge in their Veranda Plus Stateroom — for the price of a Club Oceanview Stateroom
• Panoramic views from their recently updated Club Continent Suite — for the price of a Club Veranda Stateroom
Rome
Azamara Cruises from Rome
Venice
Azamara Cruises from Venice
Destination Immersion
Staying longer in ports of call
Staying overnight in ports of call
Small ports bigger ships can't enter
Italy intensive cruises
7 Adriatic Itinerary – Embark Rome, Venice and Athens
Croatia, Montenegro, Slovenia – Dalmatia area of former Yugoslavia
Ports of call
Dubrovnik – ship tenders right off old town. Sightseeing highlights:
Old town – enjoy pubs, nightlife, restaurants while people watching.
City walls – the historic walls around the city. See the fortress, maritime museum, and finally the center of old town.
Ston – known for its historic city walls and fishing. Pair it with local wine
Konavle Valley – beautiful vineyards and the picturesque town of Cavtat is secret seaside highlight loved by rich and famous in the know.
Sibnek – today part of Croatia it has mixed history. Sightseeing highlights:
Fortresses
St James Cathedral – gothic and renaissance architecture is highlight. Known for its cameo in Game of Thrones television program.
Trogir – UNESCO site best preserved gothic stone architecture. Medieval palaces, fortresses, clock tower and town hall.
Krka National Park – Nature lovers love its splendid waterfalls.
Hvar – charming island known as sunniest place in Europe.
Beaches
Olive groves and lavender fields and top winemaking region of Croatia –
St Stephens Square and Cathedral is considering most beautiful in Dalmatia.
Renaissance and Baroque villages on the island are highlight
Kotor – Don't sleep in instead enjoy the entrance to Boka Bay with mountains towering on either side
Climb 1350 steps to top of town wall…
Old town is full of cobblestone streets with restaurants, shops, bars.
Perast and Our Lady of the Rock is manmade island.
St Nicholas Church and Palaces
Koper – Located in Slovenia just a little sliver of coast is spectacular, enjoy Amalfi Coast vibe
Usually stay in port through 10PM.
Ljubljana is little town pedestrian only full of colorful ambiance
For those who like caves visit the Postojna and Skocjan
Local truffle hunting enjoyed with wine for culinary enthusiasts.
Tito Square (Titov Trg) beautiful pedestrian town in heart of old town good place to start exploration.
Trieste in Italy is only 10 miles away.
Lake Bled and Island unforgettable expedition to Slovenia's real island. Be transported back in time. Learn about prehistoric settlements. Climb and stroll around the lake and taste local specialties.
Italy-focused Itinerary
Full day Venice, Rome, Florence
Overnight in Amalfi Coast
Two days in Sicily
Monopoli – seaside village in Puglia. Cafes, stores, less touristic more authentic. Walk board walk to local fishing villages.
Close by port of Monopoli is Alberobello to see the Trulli enter fantasy world.
Genoa – renowned for music, history, art. Known as "La Superba" meaning the proud one there are various highlihghts. Boccadasse will remind you of little Cinque Terre.
Amalfi – at the water's edge wedged into ravine
Visit the Amalfi Cathedral and cloister of paradise.
Amalfi's beach around Marina Grande is popular but arrive early if you want to find space.
Enjoy the seafood and local specialty limoncello.
Travel by boat along the coastline to Positano.
Take a tour of Pompeii.
Shopping and dining in Amalfi and Positano is highlight.
Beaches are popular.
Travel up the mountain to medieval Ravello and walk its cobblestoned streets and enjoy big views and enjoy a drink. The Ruffelo Garden and Belmont hotel are popular haunts.
Sorrento – Small seaside town touristic city set atop the cliff above port.
Museo Correale di Terranova to see 17th and 18th century Neapolitan painters
Visit Pompeii or Isle of Capri
Capri
Take the funicular from port up to the main square
Ride chair lift to Anacapri or Mount Solaro
Visit Augustus Gardens
Taormina – hilltop town is one of most beautiful places in Sicily.
Greek Theater
Taormina Cathedral
Mount Etna
Beaches located below town in Giardini Naxos: Bonday Beach, Europa, l'Aurora Celeste
Portofino – quintessential village on the Italian Riviera with waterside restaurants, miles of hiking trails and great people watching.
Popular excursion to Cinque Terre.
Santa Margherita has nice beaches.
Stay in town and relax and hike.
Visit hotel Splendido and enjoy a spritz
Livorno – Located in Tuscany best itinerary overnights so visitors can see Florence and more.
Visit Tuscany's highlights from Livorno including Florence, Lucca, Pisa, San Gimignano, Siena…
Evening boat ride right through Livorn's canals
Rome Civitavecchia – cruise port located about an hour outside Rome.
Visit Rome to sightsee the great highlights
Venice – Located at the top of the Adriatic Sea embark and disembark Italy and Dalmatian Coast cruises.
Plan to stay more than a day to enjoy the magical town.