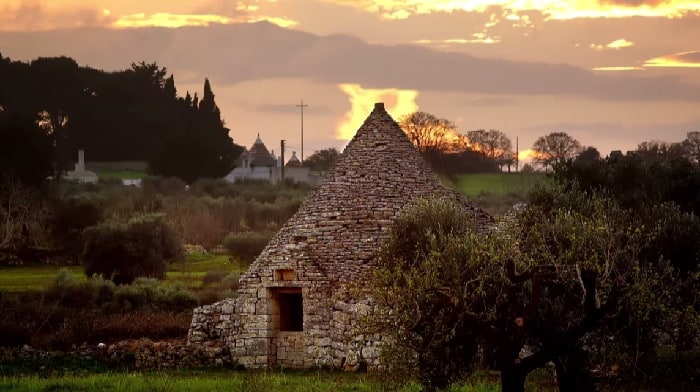 The 12-Day Amalfi Coast, Basilicata, Puglia tour visits Ravello, Sorrento, Sassi di Matera and in Puglia tours Otranto, Alberobello, Lecce, Ostuni, Bari, Trani. This all-inclusive Southern Italy Tour begins in Sorrento and the Amalfi Coast in the region of Campania. After visiting the highlights in Campania and Matera in the region of Basilicata the tour heads to the Puglia region. Puglia's sightseeing highlights are all included, with nights in Lecce and Bari. The escorted southern Italy tour itinerary includes the southern Italian regions' sightseeing highlights. The area's rich history lends itself to the escorted tour experience. You'll be escorted around southern Italy visiting Sorrento, Capri, Positano, Amalfi, Ravello, Matera, Lecce, Alberobello, Otranto, Ostuni, Castel del Monte, and Bari. This southern Italy escorted tour day-by-day itinerary explores the patchwork of cultures that colors the Italic peninsula to today. You'll enjoy rich architecture, music, food, culinary traditions, and culture. Families, friends, groups, and singles will all enjoy history's great civilizations coming to life on this 12-Day Southern Italy tour. Submit the form or call 800.227.1577 for the price of the all-inclusive southern Italy Campania, Basilicata, and Puglia tour with airfare from your preferred departure city and for more tour information.
Photos
Map
12-Day Southern Italy Escorted Tour Itinerary Map
Video
Southern Italy Tour Video
Highlights
Southern Italy Tour Sightseeing Highlights:
Enjoy relaxing in the seaside resort town Sorrento, with views of Capri, Naples and Mt Vesuvius.
Drive along the Amalfi Coast the most beautiful coastline in the world to visit Ravello, Positano, and Belvedere.
Amalfi coast excursion, including cruise (weather permitting).
Excursion to Capri and visit of the Gardens of Caesar Augustus.
Guided tour of Matera's Sassi (ancient stone dwellings), a UNESCO World Heritage Site.
Wine tasting at a local estate.
Guided tour of Lecce, known as the "Florence of the South."
Guided tour of Otranto, Italy's eastern most city located in the heel of the boot.
Olive oil tasting
Visit of Alberobello to explore the trulli, the conical dry stone huts.
Visit of "Castel del Monte" in Andria
Explore Bari's Old City "Bari Vecchia" walking with expert local tour guide.
Tour the medieval fortress Castel del Monte in Andria, famous for its octagonal design.
Guided tour of Trani, the seaside town and tour its picturesque harbor and 12th century Cathedral.
Visit Ostuni to view its whitewashed houses.
Click here to review the day-by-day southern Italy tour itinerary.
All-Inclusive Southern Italy Tour Includes:
10 nights First Class accommodations

3 Nights – Sorrento
1 Night – Matera
2 Nights – Lecce
2 Nights – Selva di Fasano
2 Nights – Bari

Italian city hotel taxes
Hotel porterage
When the southern Italy tour is booked with air all transfers included
18 meals: 10 breakfasts, 1 lunch, 2 dinners with wine, 5 dinners a la carte menu
Sightseeing per itinerary in modern deluxe luxury air-conditioned motor coach
Services of English-speaking tour manager throughout
Services of local guides in all major cities
Entrance fees per itinerary
Itinerary
Southern Italy Tour Day-by-Day Itinerary
Travel through Mediterranean history meeting the ancient Greeks, ancient Romans, Byzantines, Normans, Carthaginians, crusaders, Bourbons, and Ottomans on this comprehensive all-inclusive southern Italy tour. This escorted southern Italy tour provides an in-depth and authentic southern Italian vacation experience. The day-by-day itinerary provides time for your expert Italy tour guide to bring you through the area's rich history and culture.
Day 1 – Depart overnight flight
Destination southern Italy's largest city Naples.
Day 2 – Arrive Naples. Transfer to Sorrento
Morning arrival into Naples' Capodichino Airport. Here you'll be met and transferred to your hotel in Sorrento. Sorrento is a resort town located on cliffs overlooking the Bay of Naples and it the beginning of the Amalfi Coast. Get settled and freshen up before meeting the tour director and fellow travelers for this evenings welcome dinner at the hotel's restaurant.
Day 3 – Amalfi Coast Tour
This morning depart Sorrento for a drive down the Amalfi Coast. The first stop is Belvedere to see the Moorish architecture blended with pastel colored houses. Then, and weather permitting, you'll board a boat for a cruise along the coast to Amalfi for a walking tour of the old town. After Amalfi you'll continue high up the mountain to Ravello. Enjoy lunch at a restaurant with spectacular views of the Amalfi coast and the Bay of Salerno. Free time for a stroll around the center of town before returning to Sorrento. (B, L)
Day 4 – Capri Tour
This morning you travel by high speed jet boat across across the Bay of Naples to the beautiful Isle of Capri. There you will tour Caesar Augustus' gardens. Then you'll free time for lunch, strolling, and shopping inthe town's charming piazza. After a day on Capri you'll return to Sorrento. This evening an authentic Neapolitan dinner is included at a local restaurant. (B, D)
Day 5 – Sorrento to Matera and Sassi di Matera Tour
This morning we depart Campania for Matera in the region of Basilicata. The Sassi di Matera, the Caverns set carved in the rock include frescoed churched set into the rock. A UNESCO World Heritage Site since 1993, you'll enjoy a guided tour of this fascinating area that is where the first humans inhabited the Italic peninsula. After the tours you'll stay at a local hotel where an authentic southern Italian dinner is included. (B,D)
Day 6 – Matera to Lecce with Wine Tasting
This morning you'll travel from the southern Italian region Basilicata to the southern Italian region Puglia. The first destination is a local winery at an estate to enjoy local southern Italian wine to taste. Then you continue to your hotel in the tranquil and beautiful town of Lecce where you'll begin your tour of Puglia. Upon arrival in Lecce you are on your own to enjoy the town's famous passeggiata, an evening stroll. Lecce has one of the most vibrant passeggiate rituals in all of Italy. Partaking will get you right into the mode of this laid back beautiful southern Italian town. After the passeggiata enjoy authentic Puglian cuisine with dinner at one of Lecce's fine cafes or trattoriae (B)
Day 7 – Lecce and Otranto Tours
This morning's begin your Puglia tour with a guided city tour that will introduce you to the beauty of Lecce. Known as "Florence of the South", Lecce is a minor Baroque architecture masterpiece. The architecture, built with the local soft creamy limestone, mesmerize and surprises. Its spider's web of streets that offer a kaleidoscopic mix of long-range vistas, alluring glimpses and playful perspectives that have long enchanted visitors. After Lecce the tour of Puglia continues after lunch in Puglia's seaside gem Otranto. Upon arrival in Otranto you'll enjoy a guided tour of Italy's easternmost town located right on the Ionian and Adriatic seas. Otranto's imposing castle, thick perimeter walls and robust towers give way to a charming port. You'll have tome to stroll along the sea-front promenade where restaurants serve fresh fish. Otranto's beach is famous for its white sands and turquoise water. After a full day of Puglia sightseeing you'll return to Lecce for an included dinner at the hotel. (B,D)
Day 8 – Ostuni Tour and Olive Oil Tasting
This morning the journey into Puglia's history and culture continues in Ostuni. Rising high above the vast olive-carpeted plateau of the lower Murgia, Ostuni has long been an awe-inspiring sight. Strong defensive walls and tumbling clusters of white-washed houses wind around the hillside, at the top of which, proudly surveying the surrounding land, sits the magnificent Gothic Cathedral. After an olive oil tasting session, you will have time for lunch on own before continuing to Selva di Fasano. Dinner and overnight at hotel. (B,D)
Day 9 – Tour Alberobello and Trulli
This morning you'll visit one of Puglia's most famous destinations, Alberobello. Known for the conical-roofed houses – "trulli", Alberobello is another southern Italian UNESCO World Heritage Site. In Alberobello you'll have time to stroll around its narrow pedestrian streets. You'll find local shops selling local produce. Have a seat at a local cafe or trattorie to people watch while indulging in the local cuisine which is all organic and authentic. This evening includes a wine tasting of local southern Italian Puglian varieties followed by an authentic Puglian dinner featuring typical dishes. (B,D)
Day 10 – Tour Bari's Old Town – Bari Vecchia
This morning your day begins with a guided tour of Bari and "Bari Vecchia", the crooked streets and passageways that make up Bari's old town. There the city's churches and historic buildings are the main attraction. The area is a beautiful example of ancient Medieval architecture. (B)
Day 11 – Tour Trani and Castel del Monte
This morning we depart for Trani. Visit of the old town center, a charming Medieval network of streets with plenty of fine architecture arranged around the picturesque fishing port, which is itself flanked by numerous bars, cafes and fish restaurants. During your guided city tour, see Trani's iconic seafront Cathedral, one of the finest anywhere in Italy, before visiting Andria's architectural marvel: "Castel del Monte". Return to Bari in time for your Farewell Dinner at a local restaurant. (B,D)
Day 12 – Southern Italy Tour Concludes with Breakfast
Morning transfer to airport for your return flight home. (B)
Click here to review the southern Italy tour accommodations.
Hotels
Southern Italy Tour Accommodations:
3 Nights Sorrento  – Grand Hotel La Pace
1 Night Matera  – Palace Hotel Matera
2 Nights Lecce  – President
2 Nights Selva di Fasano  – Tenuta Monacelle
2 Nights Bari  – Victor
To browse more trips to southern Italy click here.